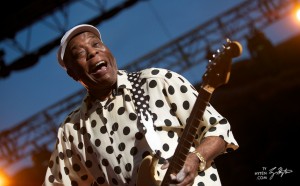 Photos by Ty Hyten
The Scene: Baby boomers slowly strolled into Red Rocks last Wednesday night for a co-headliner of classics with Buddy Guy & George Thorogood. It was a beautiful summer evening complete with a gorgeous Red Rocks sunset.  A sea of gray hair and George Thorogood t-shirts from tours past filled the venue to around three-quarters by the time Buddy Guy took the stage.
Opener: Quinn Sullivan. Overdriven blues licks bounced off The Rocks as I ascended the stairs to enter the amphitheatre. When I found my way upfront I was shocked to see 14 year old wunderkind Quinn Sullivan bending and rambling through licks to a very pleased crowd. Buddy took Quinn under his arm when he was just seven years old and Quinn has since played Eric Clapton's Crossroads Festival and shared the stage with names like BB King and Jonny Lang. Sullivan's voice is still developing but his guitar talent is undeniably something amazing. Sullivan played a solid set, wowing the crowd and receiving a standing ovation in his second time at Red Rocks.
Buddy Guy: George Thorogood may have been on top of the bill, but it was Chicago blues legend Buddy Guy that stole the show for me. The chance to see Buddy Guy is an opportunity you should not miss. Guy's eccentric showmanship and expressive, dynamic playing had an enormous influence on Jimi Hendrix, Eric Clapton, and Stevie Ray Vaughan. He is a living piece of Blues history, and at 77 years old, he still plays with the wit, energy and skill of someone half his age.
Guy, dressed in his trademark polka dots, opened with the fiery "Damn Right, I've Got the Blues" with his distinctive trebly leads driven through a tweed Fender Bassman amp. He moved into the first of a number of Blues standards with a soulful "Five Long Years." The set was filled with Blues classics like "Hoochie Coochie Man" and my favorite of the night "Someone Else is Steppin' In." A few bars into "Hoochie Coochie Man" Buddy stopped the song after the crowd failed to sing a satisfying "son-of-a-gun." He said "I played this song in India and they didn't f*ck it up that bad!" Starting from the top again, he got the laughter and singing he was looking for. Another humorous moment happened during Muddy Waters' "She's Nineteen Years Old" when Buddy interjected "I didn't write the f*ckin' song!" into the sultry song about a teenage sweetheart, which I'll admit, does sound quite odd coming from an old man. The night also included originals like "Meet Me in Chicago" and "74 Years Young."
Guy is a first class entertainer, whose stage antics influenced Hendrix and countless other eccentrics. The night was full of Buddy's trademarks like playing the guitar behind his back, weaving through the crowd with his guitar, "chewing" while humming the blues, clenching his fists, playing the guitar with the seat of his pants, playfully shushing the crowd, and his catchword, "look a-here." His guitar playing ranged from a whisper to a full blown Hendrix-esque psychedelic wail when Buddy flew off the hinges on a few solos. The entire set put a grin on my face, you just don't see people work the crowd, or the guitar like that too often anymore.  After playing "74 Years Young," the believable narrative of drinking with kings and wooing women, he invited 14 year old protégé Quinn Sullivan back out. Quinn and Buddy traded licks on Clapton's "Cocaine" and Buddy let Quinn take the spotlight with a spot-on tease of "Voodoo Child." Buddy Guy, arms outstretched, waved goodbye to the crowd and let Sullivan play him off. It was very cool to see the guy that passed the influence of guys like Muddy Waters and Howlin' Wolf along to the British Blues players like Clapton, Jeff Beck, and US bluesmen Jimi Hendrix and Stevie Ray Vaughan onto yet another young artist.
Energy: A+
Musicianship: A+
Sound: A+
Stage Presence: A+
Set/Light Show: C
Overall: A
George Thorogood & The Destroyers: Blues-rocker George Thorogood's road crew cleared the stage of all clutter, leaving no visible guitar amps and plenty of room to run. George, dressed in black, sporting a pair of sunglasses took the stage with high energy at what he proclaimed "the world's greatest Rock venue." He and the Destroyers opened with  the Bo Diddley classic, "Who Do You Love?" and the crowd all raised to their feet. He quickly moved into hits like "I Drink Alone" and his cover of "One Bourbon, One Scotch, One Beer," all with hokey accompanying illustrations on the on stage screens. George's energy was high, his muted, percussive guitar shuffles on, and his voice sounded good. Despite those things, the entire show felt entirely banal. No amount of polish or theatrics could take away the fact that it felt like a cover band playing at the state fair. Songs like "Get A Haircut" and "Twenty Dollar Gig" are such painfully awful songs that listening to them was humorous. Of course we heard his megahit, "Bad to the Bone," which I enjoyed, but it still felt like a novelty.
Buddy Guy's covers were both interesting and authentic but George Thorogood could only follow with shtick. Much to George's credit, or maybe to the tastes of his fans, the crowd loved every minute of his eleven song set. The night ended with one of the worst "encores" I believe I've ever seen. George and the Destroyers made their way off of the stage, the lights died, and the crowd cheered for more. The stage lit back up, with videos of American flags waving in the wind and the National Anthem playing, as George ran out, waved to fans, bowed, and exited. The venue lights turned on and people looked around at each other with raised eyebrows as they gathered their seat cushions. It was an appropriately corny ending to the set, but I think the majority of the fans left pretty satisfied with the night as a whole.
Energy: A
Musicianship: A-
Sound: A
Stage Presence: B
Set/Light Show: C-
Overall: C-