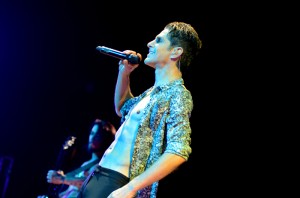 Photos by Todd Radunksy
With 3 stages, 11 bands, and 79 degree high temps, progressive rockers of all ages came out to Englewood's Fiddler's Green Amphitheatre on Sunday for a comfortable night of non-stop live music at the annual Rockstar Energy Drink Uproar Festival.
The Festival kicked off at about 3:00pm with the Charming Liars playing to a small but constantly growing crowd.  Alice in Chains headlined the festival and was the last act to play before the standard 10:30pm curfew at Fiddler's sent everyone home happy.
In-between Charming Liars and Alice In Chains, bands such as Chuck Shaffer Picture Show, Danko Jones, Beware of Darkness, Middle Class Rut, and Walking Papers alternated stages and start times so everyone in attendance could have a chance to jam with each band if they wanted to.  The Dead Daisies also played which features on vocals Jon Stevens (INXS),Guitarist Richard Fortus (Guns-N-Roses), Drummer Frank Ferrer (Guns-N-Roses), Bass Player Marco Mendoza (Thin Lizzy, Whitesnake), Dizzy Reed (Guns-N-Roses) on keys, and guitarist David Lowy.
The main stage didn't get going until about 6:30 at which time Circa Survive got things started with a 35 minute set. Coheed and Cambria were up next and played for about 40 minutes.  Co-headliner Jane's Addiction played a beautiful hour long set that featured many of their older songs and really had the crowd mesmerized.  Keep your eyes and ears open so you don't miss next years 5th installment of the Uproar Festival, it's a real blast!
I work in the music industry photographing bands live and offstage for publicity. My work includes shooting concerts, festivals, and portraits of musicians and bands. I shoot for promoters, record companies, publicists, magazines, band managers, and individual musicians. I also photograph weddings, and portraits and have traveled the world to do so. I've shot weddings in Cali, Ireland, Mexico, Cape Cod, and Amsterdam to name a few.