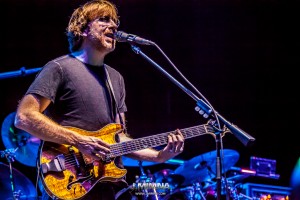 Photos by Jim Mimna
The Scene:  All eyes were on Denver as, for the third year in a row, Phish closed out their summer tour with a three night stand at Dick's Sporting Goods Park. Expectation levels were high after the previous two runs churned out what were arguably six of the best shows by the band since their return in the spring of 2009. Anticipation was heightened on Friday after the "S" and "Fuck Your Face" shows to kick off the 2011 and 2012 Dick's runs showcased the band's affinity for novelty and their ability to deliver top-notch performances with tongues placed firmly in cheek.  Phish did not disappoint and continued that tradition to the delight more than 20,000 fans packed into what has quickly become a fan-favorite venue. After all, who doesn't love Dicks?
Phish: It's amazing how a band can set the tone for the night (or in this case the weekend) with how they open a show.  After the first few notes on Friday night the message was clear.  We were in for one hell of a weekend as the band kicked in the door with a blistering version of "Ghost;" a popular number that hasn't been used as an opener since the fall of 1998.  Right away it was clear that the band was ready to go after having a break from touring.  "NICU" had many fans scratching their heads as they tried to figure out words that started with a GN.  Unless they were going to spell, "Gnarly Show Brah", most in my part of the crowd quickly gave up on hopes for another spelled out set like last year's "Fuck Your Face" show.
That potential disappointment was immediately erased as many lost their minds during the first chords of "Icculus".  In what is considered by many fans to be a bit of a "holy grail" song, guitar player Trey Anastasio quickly showed how much they love their fans as his ranting dialogue referenced a banner that had been flying above the venue earlier that evening.  It read "Read the book," a quote from the song and a long time Phish mantra, if you will. Apparently a group of fans organized on the Internet and paid top-dollar to have a plane fly the banner around before the show.  Upon seeing it, then hearing the band deliver on the request, I couldn't help but laugh thinking about how insanely ridiculous Phish fans are and how much the band loves and appreciates it.  I mean what other fan base pulls something like that?
The rest of the first set was highlighted by an especially dark and dirty version of "Stash" driven by drummer and band namesake Jon Fishman.  Fish has a knack for using his toys at just the right moment and while the rest of the band was locked in evil mode he was working his woodblock bringing a surprising bright touch to an otherwise dark jam.  "Easy To Slip", a Little Feat cover and Phish debut, closed out the first set and once the dust had settled the crowd was a buzz.  Indeed the band had been trying to spell something. Literally, they were spelling "Spell Something". This time it was backwards and with only the "P" and the "S" left we knew we would be in for a treat in the second set.
As many spent set break throwing out songs that start with the letter "P" as if this were a category on Jeopardy, I looked for my friend, who now owed me a beer as we had made a bet as to whether or not the band would play a gag show for the third year in a row.  As I reveled in the sweet taste of victory, the lights dropped and the band opened with the only "P" song I wanted to hear.  From the intro of "Punch You In the Eye" the band sprinted out of the gates then segued into what was easily the jam of the night.  "Sand," a spacey and funky cut from the band's 2000 album Farmhouse, has evolved into one of the bands most grooving and biggest jam vehicles since the return in 2009.  This version stretched over 15 minutes and while it may not have reached the heights of last year, "Sand" showcased the band's ability to gel together and form what I like to call the "eight-legged montser."  This is when the band locks in and is truly playing as a unit, flowing through improved parts and grooving seamlessly together. Without a doubt this was my favorite part of the night and pretty much all I want to hear out of these guys.
After yet another 2001 tease (I feel like there have been several of these over the last few years at Dick's,) and "Spell Something" firmly locked in, the band dropped "Say Something," a song debuted this summer, into a ripping version of "Walls of the Cave" that epitomized Anastasio's ability to take things to soaring heights and unmatched peaks of tension and release.  This is Trey's bread and butter and nobody does it better than him, even after nearly 30 years.  At this point those around me were putting their spelling bee hats on trying to figure out what the band was going to play next.  By that time, I had long since stopped trying to figure this out as spelling has A.) never been my strong suit, and B.) is something I am not trying to do while enjoying myself at a Phish show.  That said I did laugh my ass off when hearing one fan start yelling "Spell Something Wooks." Despite being completely inaccurate (at this point there was an extra "S" in there) I did find it extremely amusing.
"Oh Kee Pa Ceremony" flowed surprisingly for the first time ever into "Harry Hood" and after some serious Mike Gordon Death Star bombs as one, how shall I say, imbibed fan shouted during the, "Thank you Mr. Minor part," the band left the Hood jam and segued seamlessly into "Silent in the Morning." I won't lie.  I was pretty disappointed they chose to head into this as opposed to peaking the shit out of Hood but it was a beautiful transition and showed once again how in control and locked in the band has been playing as of late.  A pretty standard "Twist" followed and the set was closed with a great rendition of "Slave to the Traffic Light".  While the end of Slave doesn't pack the same punch as it used to, this one just about got there and was a perfect way to close out the set.
The band quickly came out for a two-song encore that kicked off with The Velvet Underground's "Oh! Sweet Nuthin," a very mellow but fitting song for the moment.  I know a lot of fans who get disappointed when the band comes out and plays a slower song like this but despite its lack of danceable grooves or ripping guitars, but it reached pretty epic heights and I was ready to walk out of the venue a very happy camper.  As I turned to leave a friendly stranger grabbed my arm and said "where are you going buddy? They have one more song," and he pointed to his little note pad.   Scribbled next to the set list was "_ost Shows Spell Something" and before I could reply the sounds of "Meatstick" filled the air.  I smiled and we high-fived as only two Phish uber-nerds can. While many have shown some distaste for this song over the last few years, I love it and can't get enough of the eerie and blimpy sounding synth effects brought on by keyboard player Page McConnell and the thumping bass that Mike Gordon slaps through the song. Sure, the dance is kind of stupid and sure, some may fuck it up and clap at the wrong time but I think it's great and honestly, what is better than singing about one's meatstick?
While this gag show didn't quite reach the heights of the "Fuck Your Face" show, (nothing with the exception of "Sand" came close to touching jams like "Chalk Dust Torture," "Undermind," or "Runaway Jim" from last year's night one,)  it was a more than solid way to kick off what was an unbelievably fun and amazing weekend.
Energy: A+
Musicianship: A+
Sound: A
Stage Presence: A-
Set/Light Show: A
Overall: A
Gary is a lifelong music fan raised in Chicago. He is the "G" of J2G Live, a Denver based music production company that brings you "Dance Party Time Machine," "Revenge of the 90's" among other great events.