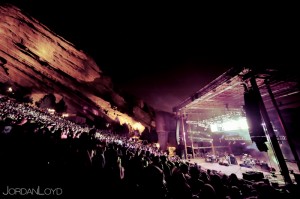 All Photos by Jordan Loyd – jordanloydphotography.com
The Scene: I wasn't too sure what to expect this past Saturday as I pulled up to the beautiful Red Rocks Amphitheatre in Morrison, CO. Aside from a slight breeze and a few clouds over the sun, we were blessed with a beautiful day for live music. I had never seen the trance-fusion jam band the Disco Biscuits before, but was very excited to get a firsthand look at what all the fuss was about. My caravan arrived at the amazing amphitheater late afternoon and parked in the rather empty upper parking lot. Groups of happy folks surrounded BBQ grills and danced to tunes blasting out of their vehicles.
We decided to make a trek to the "Shakedown" in the lower parking lot and found it was packed with people of all ages from all walks of life. A man dressed as Captain America was hula hooping while his girlfriend with fairy wings was selling her homemade earrings five feet away. A group of strangers were positioned atop their vehicles in a circle, beating a rhythm out on drums. It was obvious by all of the entrepreneurs selling alcohol out of their trunks that not many were intending to spend much money on booze inside the venue. I traded a dollar bill for a PBR from a nice couple across from the hula hooping super hero, and continued on my way.
The atmosphere of the parking lot gave me a good idea of what I had gotten myself into. Everyone was friendly and apparently feeling really, really good about life. I could barely curtail my anticipation to get in to the show. I was finally able to navigate my way through the circus head toward the venue with my group.
Big Boi: Boombox had just finished their set as I walked into the outdoor theater. At this point the venue couldn't have been more than half full. I found a spot about 30 rows up with plenty of dancing room. Big Boi, of Atlanta rap group Outkast was set to hit the stage next. The sun was on its way down and the view of the Colorado sky over the rocks was breathtaking. The sight of a live band coming out for the Big Boi set was a pleasant surprise.
He started his set with a medley of Outkast classics followed by Grammy nominated song Rosa Parks from the album Aquemini. He followed with the crowd favorites "So fresh and so clean" and "Ms. Jackson" off of the album Stankonia. Not everyone may have showed up a fan of Big Boi and Outkast, but I bet it is safe to say that nearly everyone left as a one. The band was on point the entire set and Big Boi's delivery of lyrics was flawless. His crew brought a large group of ladies on stage to shake what their momma's gave them as the southern anthem "Ghetto Musick" stole the show and caused the crowd to go completely crazy. One of the highlights of his set was when he teased 90's R&B group Soul 2 Soul's hit song "Back to Life" between "I Like the Way You Move" and his last song. The set ended with the single "Kriptonite" from his side project Got Purp 2? with the Purple Ribbon All Stars. The Atlanta rap superstar clearly brought his "A" game last Saturday to Red Rocks. He came out strong and kept the crowd moving all the way to the end of his performance. The energy was boiling at this point and I could only hope that the Biscuits were able to follow the Hip Hop legend.
Disco Biscuits (Set 1): The sun had fully disappeared by now and you could feel the crowd's anticipation as the stage was set up for the one of a kind trance-fusion-livetronica jam band the Disco Biscuits. The Seats were at most 70% full. That made for plenty of room to move around and find a decent spot. The stage was set up with four individual platforms for each of the band members to stand on. Above the band were 3 giant cubes with screens on each side that shuffled through visualizations in rhythm to the music. I was told to expect lasers, but to no avail. The light set up was amazing none the less. They started their set with the song "Highwire."A slight rain began to fall mid song but it seemed unnoticed by the throng of raging fans.
Their sound was like nothing I've heard before. I could see how it would be difficult to determine when one song ended and another began, unless you are familiar with the work of the Disco Biscuits. They are popular for starting a song, transitioning into another song then finding their way back to the original one. The first set consisted of only 5 numbers and stretched for a little over an hour. The set ended on the song "Spraypaint" which they had started as the second track in the set. It was obvious to me that the lyrical content of their pieces were far from the most important part. It seemed at times as if they were just singing complete nonsense. Perhaps, I just didn't get it. Clearly people were not there to be blown away by lyrical genius or an over the top vocal performance.
After the first 5 songs I knew that these guys were very good at what they do. You could tell each of them was having a blast on stage. Going from a rehearsed composition into a 10 minute improvisational jam is a definitely not a feat accomplished by many. I now realized what a "Trance-fusion livetronica" band was. To the passerby who may not have seen the 4 guys on stage it could have been easily mistaken for a DJ working a computer and turn tables. Which I guess was a very smooth transition for what happened next.
Rusko: During the Disco Biscuits set break the English Dubstep producer Rusko graced stage left with his set up of laptops, knobs, bells and whistles. I may have thought the Disco Biscuits were an interesting approach to live music, but Rusko was an entirely different beast. It seemed to me that a lot of the younger crowd had showed up simply to see this guy. Personally, while I'm a freak for loud bass in my music, his bass perhaps was just a little too loud.
Rusko came out to an army of young girls screaming very loudly but that was quickly stifled by the brain rattling bass he used to fill the rocks. If there was an 11 on his volume dial I am sure he surpassed it by at least 3 notches. I had to clench my 7 dollar Pabst with all my might to avoid it from shaking out my hand. I think he attempted to say a few things into the microphone but was rocking out way to hard and all I heard were mumbled words over strange technological noises. Granted, it seemed like most of the crowd really dug everything Rusko threw down. The highlight of his set was an awesome rendition of the Tetris theme from the old school Gameboy Game.
I could feel my vital organs vibrating off of each other as the massive bass came to an end. At this point I figured it would be a good idea to make my way up to one of the less crowded rows for the second set of the Disco Biscuits. After a short break they came back out to an eruption from everyone who still had hearing left after the incredibly loud Rusko set.
Disco Biscuits (Set 2): Their sound for the second set was rather interesting. It took me many different places. As I said earlier: These guys are very good at what they do and they obviously love every minute of playing together. They started the second set with the funky sounding "King of the World" into a really groovy "Story of the World." I took their advice from this song and decided to "settle back and chill" for the rest of their second set. The one thing that I must say for these guys is that they are masters of building and playing off of the crowd's energy. They will take you from a deep house trance into an upbeat psychedelic jam. Although their sound becomes a little repetitive at times they were still able to keep the collective attention of most of the people in attendance. It was almost like foreplay the way they keep a groove going just long enough as not to lose you, and then all of a sudden bring it back home with a funky break and a send you in an entirely new direction.
My ride was leaving as they were finishing up the very psychedelic cover of the Pink Floyd song "Run Like Hell." This was also another highlight of my evening, being a sucker for anything Floyd related. I figured this would be a good note to end the evening on. I had gotten my fill of the Disco Biscuits for the night. The broken ankle I had been dancing on all day was starting to swell and I could hear reality calling my name. Plus, I wasn't really in the mood to be stranded at Red Rocks with thousands of wide eyed strangers. As I made my way down the massive stair set the band started in on "Spacebirdmatingcall." Unfortunately I only caught a few minutes of this before I was corralled out the gate by my half asleep buddy. It was a little after midnight and I felt the day had been an overall success.
I had the pleasure of walking to the vehicle with a very confused looking kid around the age of 16 wearing a flat brimmed ball cap and an ear to ear grin. I asked him what he thought of the show. Maybe he had a lot on his mind or was a little distracted by something else, but all he could manage to get out of his mouth was the four letter word: "Epic!" I had to agree with him. The all star line-up of world class musicians coupled with the unique energy and atmosphere only found at a show of this nature made for one hell of a day at the beautiful Red Rocks Amphitheater.
Big Boi may have stolen the show but the Disco Biscuits stayed true to their style and rocked the place like no one else would have been able to do. They have been doing it for a very long time and judging by the excitement on everyone's face between those two rocks, I feel they will continue to do it for much longer. If you have never had the opportunity of seeing these guys bring the heat, I highly recommend you get out there at least once and experience for yourself the phenomenon that is the Disco Biscuits.
Energy: A
Sound: A-
Musicianship: B+
Stage Presence: B-
Set/Light Show: B+
Overall: B
I rode my skateboard from school in 7th grade to my buddy Vince's house where he put on the song "Perfect Government" by NOFX and I was hooked. The next day I bought the album Duh by Lagwagon. The next year I saw Against Me! at the Starlight Theater in Fort Collins, my mom dropped me off. I've since devoted every waking hour to anything done with passion. My speakerbox bumps everything from Lil' Wayne to Pablo Casals. I was never very good at making music, but I am damn good at listening to it. I've been filling up yellow notepads with random thoughts and misspelled words for as long as I can remember. I enjoy whiskey of all sorts, Newport cigarettes and the company of my family. I've got an addiction to run-on sentences that I'll probably never cure. A solid handshake with a stranger who has become a friend over a few beers means the world to me. You'll often find me wide eyed and wandering with an ear to ear grin. I live for funky break beats and spreading the love.