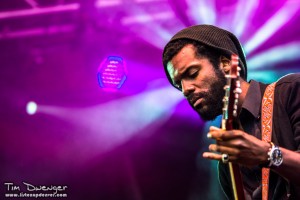 Photos by Tim Dwenger, Ty Hyten & Ryan Stack
Review By: Brian Turk & Tim Dwenger
The 20th Annual Telluride Blues & Brews Festival was a wet one, but the heavy downpours followed by strong sunshine yielded some awe inspiring rainbows. It seemed like from Thursday till Monday, the skies were telling us they were in charge, but reminding us to smile about that fact. We were at the whim of the weather. We were not in control. Giving in to the music and the mud, we approached the weekend humbled by both and decided to rage along with the rain as hard as we could.
Even though the mud was slick and rain jackets came on and off 10 times a day, the sloppy Blues & Brews experience was nothing compared to the devastation going on back in Boulder, Lyons, Jamestown and the surrounding areas. To us the rain was a nuisance. To those back home it was a weapon of mass destruction. With our hearts flooding with concern, we kept our head above water and kicked up mud under the rainbows as we celebrated 20 years of one of the country's best music festivals, which also brings over 50 craft breweries into the mix to create an experience that truly represents the Colorado lifestyle. Craft beer. Good music. Unpredictable weather. Tenacity. The mud was bad, but it could have been much worse, and in a way, Blues & Brews was our shelter from the storm raging back east.
Listen Up Denver's Blues & Brews experience started with The Congress at Fly Me to The Moon Saloon on Thursday night. The Congress is one of our favorite Denver bands, that's no secret, and it was great to see them officially affiliated with the festival this year (they kicked things off on Wednesday night by headlining the Sunset Concert Series). After 6 hrs of driving and a couple hours of dancing, the night ended with a warm bed and blanketed anticipation for the three days to come.
Friday's festivities started with curly haired Australian surfer Kim Churchill. At first glance you may expect to hear an Australian Jack Johnson; someone playing simple guitar spouting upbeat and poppy lyrics. We can all agree "Bubble Toes" was the shit when it first came out, but Johnson's entire catalog kinda sounds the same. In contrast, Churchill rides a wave of innovation. Percussive, rhythmic guitar playing with style and strength. Electrified harmonica. Pensive lyrics. Churchill created a large swell of sound for one man, and everyone paddled in.
The Bright Light Social Hour brought their Detroit Rock City sound up from Austin via Studio 54, and then really let their hair down. No really, they all have some formidable locks. These guys should be sponsored by Pantene, and we think they might just have a hair brushing technician on tour with them. Their mainstage set was good and all, but they exploded during their late night set at The Elks Lodge. The dim decor of the Elks Lodge suited The Bright Light Social Hour, and they put on one of our favorite sets of the weekend.
ZZ Ward has jumped on the scene with a fury, and her big brimmed hat can't cast a shadow on her popularity. This girl is hitting the road hard, and she came in hot with hits like "365" and "Put the Gun Down." Ward may be born from the Blues, but her sound is as radio friendly as it gets and her fan base is massive because of it. One of bluesiest things about ZZ Ward is that her dog's name is Muddy Waters. The thing is, she knows it. She isn't trying to be a Blues artist, she is trying to be herself, and she is doing a damn good job at it as she sells-out venues across the country.
After Ward, Allen Stone sauntered onto the stage with soul and delivered a blistering set that included fan favorite "Sleep" and pulled everyone to their feet for a "Celebration." Stone's got soul, and his cover of Bob Marley's "Is This Love" was dead sexy. Stone even turned up the Funk with a cover of "Tell Me Something Good" by Rufus and Chaka Khan.
James Bay's tweener set on the side of the main stage was like a calm before the electrical storm that Gary Clark Jr. unleashed from his guitar and as Bay played the first rainbow to inspire camera phones to fly out of pockets appeared at the end the of the canyon. Clark has been compared to Jimi Hendrix, and although his playing isn't as revolutionary as Hendrix's was, Clark's playing possess passionate power that could draw no other comparison. After accelerating through a powerful set, he turned on the hi beams and blinded us with a "Bright Lights" closer.
Attention. Ah hem. Is this thing on? We have an announcement to make. The Black Crowes are back folks…and this time they brought Jackie Green into the roost. Just days after losing their father, Chris and Rich Robinson brought everything they had to the stage and played a set that reminded us all why The Black Crowes are one of the greatest Rock and Roll bands of our time. The set was hit-heavy, but who doesn't love singing along and shaking their money maker to "Jealous Again," "Remedy," "Hard To Handle," and "She Talks to Angels?!" The Black Crowes have been the soundtrack to generations full of memories, and their Friday night headlining set added to the pot. Our personal favorite was the cover of "Oh Sweet Nuthin" by Velvet Underground. Although the term has been beaten to death, epic is the best description we can think of.
As we made our way out of Town Park we tossed around the idea of heading over the mountain by Gondola to catch the legendary Booker T, but decided to stay in town and wander the streets in search of the funkiest sounds we could find.  First we swung by The Sheridan Opera House and caught a little bit of ZZ Ward's polished set but the adoring crowd was a bit too much and we were in search of something grittier so we made our way across town to take in Bright Light Social Hour set at the Elks Lodge.  When we slipped through the door we descended into a dizzying dirty disco haze that was exactly what the doctor ordered.  These boys know how to deliver a psychedelic set that had even the most jaded in the crowd fully engaged.  When Bright Light announced their final song of the evening we headed back to cozy little Sheridan Opera House to catch some of Allen Stone's set.  Though the set was similar to his main stage performance from earlier in the day, Stone's stage presence was a little more electric in the tiny room and we found ourselves hanging on every note and shielding our eyes as the lights came up at the end of a long day of music.   This was only day one . . .
Stay tuned for more coverage of Listen Up Denver's Telluride Blues & Brews weekend!