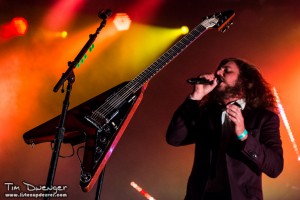 Photos by Tim Dwenger, Ty Hyten & Ryan Stack
Review By: Brian Turk & Tim Dwenger
Day two of the Telluride Blues & Brews Festival features The Grand Tasting, where thousands of concert goers swill free craft beer for hours, in order to determine the best beer in the box canyon that Saturday. Mud splattered and squished as festival goers wet their whistles with the wares of over 50 craft Breweries. We are excited to say that our buddies over at Telluride Brewing Company were the "Best of Fest-Grand Tasting Champions" this year!! Way to go Tommy and Fish! Just a small tidbit of information: bass player and singer Jonathan Meadows of The Congress is rather fond of Telluride Brewing Company Beer, and is rarely seen without his TBC hat on. Listen up Denver's Brian Turk recently sported his TBC hat in a photo shoot with Anders Osborne. The crowd loved 'em. The Congress loves em, and we love em. Give Telluride Brewing Company some love folks!
The New Mastersounds were the first to bring the Funk on Saturday, and even with guitarist Eddie Roberts seated in a cast, there wasn't a person in the audience who wasn't up and moving their feet. The New Mastersounds hail from Leeds England, and their distinct sound has sent waves over to this side of the pond for well over a decade and they have taken quite a liking to our state. The New Mastersounds just finished up their soon to be released new album at Denver's Scanhope Sound, where Josh Fairman (bass player of Kinetix, Analog Son) mans the controls. The New Mastersounds have an old school sound that reaches the roots of Jazz, Funk and Soul but blossoms with budding thought. "Proud Man" sprouted from the set as one of our favorites.
Rebirth Brass Band kept the funky party going and threw a bit of the Mardi Gras spirit from the stage. Literally. Casting beads to the audience as their brass shined with sound, the tipsy Blues & Brews crowd were giving the Mardi Gras crowd a drunken run for their money. Blues & Brews is not Telluride Bluegrass folks. While we love ourselves some Telluride Bluegreass, there aren't too many people bouncing around and wishing each other a "Happy Bluegrass!" or talking about how they are going to be picking in Town Park later at Blues & Brews. There is no endless sunshine coming from the sky (at least not this year) and "festivarians" glowing faces. There is beer. There is Blues. There is mud and uncertain weather. There is grit and there are plenty of freakin rainbows…these folks just don't skip around and try to pin them on people. We look up, smile, and get back to getting down and dirty.
Dipping over to the campground stage, we watched one man band Low Volts surge the grid with a low-fi sound. The campground stage was a new addition this year, and the log structure was nestled right next to a waterfall over in the Town Park campground. The setting was beautiful and provided a much more intimate perspective. Keep an eye out for Listen Up Denver's videos of the Telluride Blues & Brews Campground Sessions. After geting shocked by Low Volts, we headed back to the festival grounds for one of the most authentic blues acts of the weekend, Otis Taylor. Taylor was born and raised in Denver, and currently lives in Boulder, so he was also the only act on the mainstage bill to hail from Colorado. His gruff voice powered through "Blue Rain In Africa" and a cover of "Hey Joe" by Jimi Hendrix. Taylor may not be the most well known of the acts, but in the blues world, he carries undeniable weight. Taylor's stature represents his sound, and his guitar looked like a ukulele in his huge hands as his voice boomed through the canyon. Next up was original Grateful Dead drummer Mickey Hart, but we were unable to catch his set since our team was interviewing Ben Jaffe from Preservation Hall Jazz Band over in Mountain Village, but we heard the set was rhythmically devilish.
We descended from mountain village on the gondola, and returned to the festival grounds as the last notes of "Fire On The Mountain" faded away, to wait for Jim James of My Morning Jacket to take the stage. James was cloaked in mystery as he strode the stage in front of a cerebrum shaking lighting backdrop. Nothing over the top, but a spectacle nonetheless. Kind of like the set itself.  Several of us had caught James earlier in the summer at Denver's Ogden Theatre and the set was virtually the same as he and the band ran through their new album in order before offering up a few choice gems including the touching MMJ ballad "Wonderful (The Way I Feel)" and "Changing World."  The latter is a song with lyrics by Woody Guthrie and music written by James for a project called New Multitudes that he worked on with Jay Farrar of Son Volt  Will Johnson of Centro-Matic and Anders Parker of Gob Iron.  It was sad to watch the crowd slowly flow from Town Park as the cold rain and mud finally sapped the last of their resolve for the day.  By the time James waved and said goodbye, there were only a few hundred people huddled in front of the stage.  He is a masterful performer, but somehow the majesty of his set was lost in the cold and wet mountain air this time around.
We all headed back to the condo to get some dry clothes and collect ourselves before heading out to the Juke Joint sessions.  The rain had let up a bit and we found ourselves waiting in a long line to get into The Sheridan Opera House to catch Blues & Brew favorite Anders Osborne.  As we found some space near the back of the room Osborne and his band tore into a smoldering version of the Little Feat classic "Spanish Moon" and we all thought we were in for a monster set.  However, after the band lit the room on fire with "Stoned Drunk and Naked" they faltered badly on a very choppy and rough version of the Grateful Dead's "Scarlet Begonias" that us wanting more.  It wasn't long before we were headed for Fly Me To The Moon to catch the always tight New Mastersounds as they ignited the underground club with a high energy set that kept us dancing till the wee hours of the morning.  While word was that Osborne's set got much better as the night wore on, we were happy with our choice and even rubbed shoulders with Jim James and his band taking in the Leeds based Funk wizards as the clock pushed well past midnight.