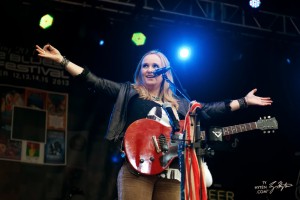 Photos by Ty Hyten & Ryan Stack
Review By: Brian Turk & Tim Dwenger
Day three of the festival started off with an energetic Gospel-tinged Funk set by The Relatives and, while we had the best intentions of making it to Town Park in time to catch them, the late night Juke Joint sets had taken their toll so we opted for a nice long breakfast in the comfort of our condo. It was much needed. After filling our bellies and our backpacks, we headed up Main street with warmth on our faces, searching for another rainbow. When we walked through the gates, Preservation Hall Jazz Band was in full swing and two tubas were shining in the Sunday sun. Preservation Hall Jazz Band is a traveling lesson on New Orleans Jazz and they are ambassadors of New Orleans heritage and culture. Not a band content to rely solely on Jazz standards and vintage material, Preservation Hall creates new material and works with some heavy hitting artists-including Jim James. Preservation Hall is truly preserving history and culture by presenting New Orleans jazz on the road half of the year, and they are blazing new trails with modern creations that may make you question what era they were written in.
After Preservation Hall Jazz Band gave us a bit of New Orleans brass, the Anders Osborne machine pulled on stage and really stepped on the gas. The set had more umph than the previous night at The Sheridan Opera House and Osborne and crew were really "On The Road To Charlie Parker." Osborne gave us some of the more mellow new stuff, like the infectiously groovy "Marmalade," but it was the hurting he put on harder songs like "Boxes, Bills and The Pain" that really got our motors running. Osborne had Peter Stelling on second guitar, a Colorado resident, and Stelling fit right into the mix, adding flavor to Osborne's already spicy pot.
Karl Denson's Tiny Universe bring out a big sound, and there is little to not like about this band. Funky and free. Jazzy and jumping. Soulful and slamming. KDTU got the crowd moving from the first note and kept them in motion till the end. Rain had been making sporadic appearances throughout the day, but the crowd just danced on. The last two acts of the day brought out an older crowd, and were two of the bigger draws of the weekend. The legendary John Hiatt mesmerized the crowd with his distinct voice and expansive catalog.  Judging by the reaction of the fans as Hiatt and his band "The Combo" dazzled the faithful with performances of "Drive South," "Real Fine Love," and a monster "Memphis In The Meantime," he was the man people came to see this weekend.  Showing his versatility Hiatt even slowed things down a bit with "Perfectly Good Guitars," before cranking things up a bit on "Slow Turning," and an appropriately bluesy take on his timeless "Thing Called Love."  Though it was flat-out pouring by the end of his set, the crowd held on till the last notes of his scorching closer "Riding With The King" to prove their dedication to this master songwriter.
The woman people came to see was Melissa Etheridge. In the interest of full disclosure, after snapping a few photos, we retreated to a restaurant to bookend the day with another meal and avoid the sheets of rain falling from the sky.  Fortunately the restaurant we chose was streaming the set while we were eating. Most of our team knew Etheridge from her radio hits and those songs hit us at a time in our lives when it wasn't "cool" to listen to Etheridge. Our High School days weren't filled with singing "Come To My Window" at the top of our lungs with the windows down while we skipped class to go swimming with girls, or to go sneak a toke. Etheridge was "adult contemporary," and that wasn't necessarily the moniker we were attracted to. Now, as men in our late twenties and thirties, we can recognize the power, the soul, and most importantly, the Blues in Etheridge. Whatever we thought about Etheridge was blasted away by ripping riffs, and our underestimation was overpowered. As great as her set sounded coming through the speakers, we will admit, the spicy spread at Siam was one of the highlights of our damp and muddy weekend.
Telluride Blues & Brews has grown from a niche, genre specific festival held on Main street to one of the countries most well respected destination festivals. Blues & Brews has steadily gained recognition over the past few years and the lineups are well thought out and hard hitting. If you are a lover of Blues based music, Funk, Soul, Rock, Jazz…you know, all the good stuff, then this is the festival for you. As music lovers who live in Colorado, Listen Up Denver! looks to Blues & Brews to officially close out the summer for us, and to do it in fine fashion. Blues & Brews is what being a music lover in Colorado is all about and it couldn't be held in a more magical place. We would like to congratulate Blues & Brews creator Steve Gumbel on 20 years of realizing a vision, and thank Bill Kight, Courtney McClarey and the rest of the SBG Productions crew for making it all happen. We will see you next year, rain or shine.