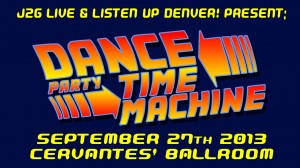 Why You Should Go:  Colorado's best musicians will be traveling through decades of dance music guided by the Dance Party Time Machine. From the 60's to Today, the Dance Party Time Machine will jump from era to era, placing your dancing feet in various time periods, while your tab stays at Cervantes'.
J2G Live and Listen Up Denver! are known for their yearly Revenge of the 90's extravaganza, and now they are throwing a dance party that knows no limits. A group of over 40 of Denver's best musicians will take turns performing popular dance tunes from various decades. Starting in the present day, the Dance Party Time Machine will bounce through time as the night moves on covering every dance and era imaginable. Want to get down and dirty to Disco? Grind to 90s hits? Relive your favorite party anthems? Well,  it can all be done in one night this Friday!
Denver is known to have one of the hottest music scenes in the country and the best of the best have been recruited for this monumental event. Dance Party Time Machine will feature David Murphy of Sound Tribe Sector Nine and SuCh alongside members of: The Motet, Euforquestra, YAMN, Rose Hill Drive, The Congress, Fox Street Allstars, Kinetix, Octopus Nebula, Tiger Party, The Whales, Mountain Standard Time,  Broken Tongues, Ableminds, Filthy Children, Rally Round the Family and more.
Venue:  Cervantes' Ballroom, 2635 Welton Street, Denver, CO 80205 – 303/297-1772
Doors: 8:00 pm. Show starts at 9:00 pm.
*Price: $18.00 Adv. $22.00 DoS.
Buy Tickets
*All prices are gathered from other sources and we are not responsible for mistakes or inconsistencies. They are intended only as guidelines. Please, always call the venue if you desire the most accurate information possible.