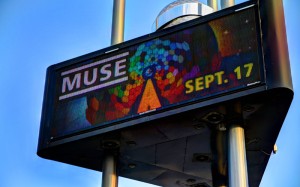 Photos by Todd Radunsky
British rock band Muse brought their hardcore fans and a gigantic LED pyramid to Denver last Tuesday when they played a loud, high-energy set at The Pepsi Center.
The trio played a 19 song set that included the bombastic opener "Supremacy" that started the night off with a bang and really got the crowd into the show immediately. Not only was the band tight and the sound great, but the light show was artsy and impactful without being over done. Their gigantic pyramid made out of dozens and dozens of flickering LED screens only added to the visual spectacle.
Judging from the fact that there were both men and women crying when the band came on stage there's not much argument to be made that Muse has a very faithful following, and is one of the better live acts touring today.
I work in the music industry photographing bands live and offstage for publicity. My work includes shooting concerts, festivals, and portraits of musicians and bands. I shoot for promoters, record companies, publicists, magazines, band managers, and individual musicians. I also photograph weddings, and portraits and have traveled the world to do so. I've shot weddings in Cali, Ireland, Mexico, Cape Cod, and Amsterdam to name a few.