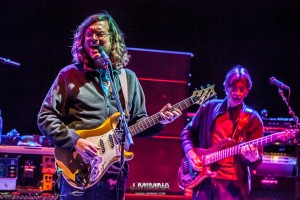 Photos by Jim Mimna
Listen To This Show While You Read
Thanks to Bennett Schwartz for Audio & Video that accompany this review!
The Scene: Red Rocks in September is an unpredictable place for the weather and it seems like shows go later and later into the Fall season each year.  Furthur has embraced this trend and has made late September theirs; this year playing a 4-night run of shows.  These shows proved the former members of the Grateful Dead are still stalwarts of an industry where you're only as good as your last sold-out show or successful tour.  As unpredictable as the weather can be, this audience has become anything but to those of us that have been seeing Dead related shows for all these years.  The splatter of color from tie-dyes, the fingers held high to the sky near the gates in hopes of a miracle, or all the unique smells of  food and fans alike in the lot are exactly what I expected to find myself surrounded by when I arrived.  This unlikely mix of characters from so many different walks of life all come together to create the carnival-like atmosphere that has become a standard Dead family experience, or just another day at the office for Bobby, Phil, and company.  Many bands' fanbases have followed this model created by the Deadhead nation, but few do it as well.
Furthur:  For me, this band is like an old love affair that won't ever die even though the passion isn't growing anymore.  Instead, the passionate throws of my past with this music is more about who I am as person now than how it will influence who I will become, like it once did.  These days, age and wisdom have replaced that passion with appreciation for this grand trip the Grateful Dead family has taken me on and the lessons I learned along the way.  Experience tells me how fleeting this all was and how lucky I am to have taken the ride because this trip will never happen again, not like that.  So, given all this personal history, you will understand if my perspective coming into this show was slightly negative, like a jealous lover with low expectations of a roll in the hay for old times' sake.
Given that the band just announced a hiatus from touring in 2014, Furthur fans put a bit more weight on these shows given the unknown nature of things to come.  I was expecting a tired band ready for some rest given this news, but I was wrong.  From the first note of Weir's piercing guitar tone, I was sent a message: this group of veterans was here to play!  "Hell in a Bucket" was a great opener that got folks up and dancing immediately and I don't think they sat down until setbreak.  "Ship of Fools" proved to have a sharp lead vocal by John K. and nice harmonies by all in the chorus; fruits of the relentless touring these guys have done together the last 4 years I guess.  As the set progressed, the biggest standout individual for me was Joe Russo.  His dynamic drumming blended some of the core beats Bill Kreutzmann fathered decades ago mixed perfectly with the rhythmic wall to wall style of Mickey Hart.  He was all the drums I could have wished for and seemingly drove Phil to play some of the grooviest bass playing I have heard from him since The Dead played their epic 5-day run on the very same stage in 2004.  Joe Russo is the goods, folks.   The set ended on a show-ending worthy run of songs that started with "Wharf Rat" and segued nicely into a "Throwin' Stones > Not Fade Away" combo that left everyone smiling ear to ear at setbreak.
As set two unfolded, my low expectations reared their ugly head as soon as I heard that familiar riff that signaled it would be "Truckin'" to start us off.  "A song I have heard too many times," I thought to myself.  Negativity be damned, the subtle changes in arrangement caught my attention immediately and were quickly overwhelmed by the level of jamming that ensued.  I was even impressed with Bob Weir's guitar work on this one as he virtually stole the lead while never straying from his place in the song; this was refreshing.  The whole set was jamtacular with highlights being the funky bass lines on "St. Stephen" followed by the most psychedelic "Bird Song" I have ever heard.  The "Scarlet > Fire" was a nice touch and won me over fully, setting me up for the best "Viola Lee Blues" I have heard in a decade or more.   As a whole, the show was very well played, energetic, and fun as hell.  The "Attics of My Life" was the perfect comedown encore, leaving the fans with a nice full pallet to tide them over till they communed again the next day.
Setlist – Furthur – Friday, September 20th 2013 – Red Rocks Amphitheatre
Set 1:  Jam > Hell In A Bucket, Ship of Fools, Looks Like Rain, Pride of Cucamonga, Wharf Rat > Throwin' Stones > Not Fade Away
Set 2:  Jam > Truckin' > New Potato Caboose > St. Stephen > Bird Song, Scarlet Begonias > Fire On the Mountain, Death Don't Have No Mercy > Viola Lee Blues > Touch of Grey
Encore: Donor Rap, Attics of My Life
Energy: B
Sound: A-
Musicianship: A
Stage Presence: B
Set/Light show: C
Overall: B
Capturing life in various forms is what I do. I consider myself an archivist by nature. It is not a career choice that I consciously made, but it is something that has called me. I strive to freeze a moment in time with every frame, a moment that can retell its story with each viewing, forever. I also have a deep passion for music and have been photographing and recording live music for years. Capturing the energy and magic of a live performance in a photograph is one of my passions. In addition, I enjoy photographing in a wide variety of settings, from wildlife scenes to family portraits and everything in between. I am a lover of the earthscapes that we see all around us every day, both natural and manmade, and aim to make unique images that do justice to their beauty. Where others see darkness, I see streaks of light through long exposures. I shoot a very wide variety of subject matter including individual/family portraits, event coverage, landscapes, live concert/performance, HDR, product and commercial photography, architectural, weddings, food, and editorial photo journalism. With artistic expression, I aspire to create visual art that speaks volumes.