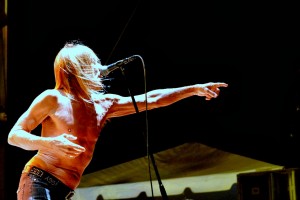 Photos by Johne Edge
The Scene: It was after midnight and as I trudged through the rain on my way back to the car. Blink 182 was just hitting the stage after a long weather delay.  The mud on the bottom of my boots made it feel like I had platform shoes on.  My clothes were soaked and my camera gear was wet.  Rain or shine the tickets said, and I wouldn't have traded anything for a weekend that brought acts like The Replacements, Iggy and the Stooges, Public Enemy, and Rancid to the Mile High City.
Day One: The morning started with an early sound check as Dire Straits' "Money for Nothing" blared out of the festival PA around 7:00am.  The temperature was heating up before most campers got up.  As I finished my oatmeal, a homemade Unicorn walked by and I decided it was time to crack open a Colorado Kool-Aid.  A fellow press member asked, "is it bad to be drinking this early?"  To which I could only answer, "with Unicorns in the campground it's probably a bad idea not to," and I handed her a beer.
Taking the Riot Stage at 12:15pm, Scott Risch and Denver's Potato Pirates got things underway.  Those that weren't already up and moving out of their tents received a rude awakening as the volume was turned all the way up.  The high energy homegrown Punk set the tempo for what was to come.  The rest of our day was filled with the Indie and Art Rock of bands like The Dear Hunter, Minus the Bear, and Bosnian Rainbows.  Later in the day we caught the transgender dysphoria blues of Against Me before returning to the punk of Rocket from the Crypt and AFI.
Since the festival was billed as "Riot Fest and Sideshow" I decided to visit the midway before the nights highly anticipated headliners  Iggy and the Stooges and The Replacements played.  There were corn dogs and deep fried Twinkies to be had.  Stomach churning from greasy food I washed it all down with a beer.  Then I gave away a few dollars away, attempting to prove my manhood by trying to win a giant stuffed animal.  Finally there was a Ferris Wheel ride before I had to go back to work in the photo pits.
The Stooges hit the Roots Stage at 9:25.  The shirtless Iggy Pop jumped up and down and bound around the stage belting out  classics like "I Wanna' Be Your Dog," "Raw Power," and "Search and Destroy."  He had more energy than most the younger bands that had played earlier, and with the 2013 release of  "Ready to Die" it doesn't seem like the proto-punk of sixty plus years is planning on quitting music anytime soon.
At 10:30 The Replacements came out dressed for an androgynous episode of Hee-Haw.  They had on orange cowboy hats, knockoff Rockmount Ranchwear western shirts, and skirts.  Maybe it was only appropriate that they opened up their set with "Takin a Ride,"
and finished with an encore of "Hootenanny."  In between those songs, and the perm-a-grins of Westerberg and Stinson, they played hits like "Left of the Dial," "Can't Hardly Wait," and "Bastards of Young."  The nostalgic crowd was ecstatic with the third and final reunion concert that was being played for them in a dusty field outside of Byers, CO.
Day Two: Irish handcuffs came off as Day 2 lay ahead of us.  The day dawned and though the temperature was much cooler than the day before, it looked liked the weather was going to hold out for us; we could have never been more wrong.
We started the day off slowly with more Art and Indie Rock as we caught pieces of sets from acts Kitten, Chuck Ragan, Woven Hand, and Kongos (Kongos had decided that if Justin Timberlake could "Bring Sexy Back," that they would single handedly bring the accordion back).  We were just jumping from stage to stage until we ran into an episode of The Power Rangers meets The Ramones: Peelander-Z.  On stage in front of me was Kengo Hioki himself, his hair and beard dyed yellow to match his costume and guitar.  He was flanked by a dinosaur head wearing bass player in a purple outfit on one side, and the pink wearing girl from Voltron on the other.  The girl acted as the hype wo-man, the Flavor Flav if you will to Yellow's Chuck D.  The Japanese group tore through dizzying versions of  songs like "Mad Tiger," and "Taco, Taco, Taco."  This J-Pop/Punk band quickly became a fan favorite at this year's Riot Fest.
In between  Peelander-Z and Public Enemy I was able to catch some Punk Rock wrestling and this all happened after the festival's masked luchadores left the ring.  Some fans decided a good ring shouldn't be left empty?  Entering the ring tattooed and shirtless, they ran around executing what moves they remembered from watching the WWF as kids.
Public Enemy took the stage late in the afternoon.  They were the only Hip-Hop act on the lineup, but they fit in perfectly.  The socially conscious, no bullshit lyrics, were delivered with more aggression and heart than some of the Punk bands in the other time slots.  During "Bring the Noise" Chuck D sang, "Never badder than bad cause the brother is madder than mad."  Nothing could have been more true as he and Flavor Flav delivered hit after hit without missing a step.  This band is still one of the most influential of the last twenty-five years, and after their performance remain "Public Enemy #1."
Flag (Black Flag) fronted by Keith Morris with original members Chuck Dukowski, Bill Stevenson, and Dez Cadena took to the stage as storm clouds began to threaten.  Back in the day it was said by Raymond Pettibon, "If a white flag means surrender, a black flag represents anarchy."  Today would be no different as the band refused to surrender to the high winds and impending rain.  Instead they played a barrage of hits including "Revenge," "My War," and "Rise Above."  Flag finished up just as the festival was evacuated due to a severe storm passing through the area, bringing with it the aforementioned wind, torrential rains and lightning.
Some folks hid out in their cars, while others decided to leave early.  After more than a two-hour delay, crews dried stages off, amps were uncovered and abbreviated sets began around 9 p.m. to a smaller crowd. The faithful who stayed were rewarded with great sets from Matt & Kim, Devotchka, and Rancid.   Soaked, caked in blood and mud, I left early to protect my camera gear after the rain started back up during Rancid and never stopped.  Unfortunately I missed Blink 182 as they finished out Day Two of Riot Fest.
Thank You Riot Fest for bringing such an amazing lineup to Colorado.  I hope to see you again here next year.
Wherever the music is, you'll find me with my camera, shooting on street corners, from barstools at clubs, from the side of the stage at theaters, and from photo pits in places like Red Rocks. Clicking away, trying to capture the emotive essence of music, and all those moments that we forget because of one too many Pabst Blue Ribbons.