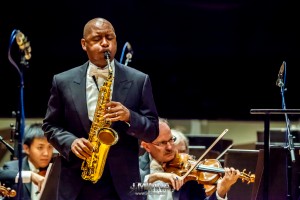 Photos by Jim Mimna
The Scene:  Boettcher Concert Hall is an extremely unique room and I could write a review of the many acoustic properties it was crafted to employ under the umbrella of a different publication.   But, because this isn't a review in a technical journal, I'll summarize the details that matter: it sounds incredible in any seat in the house, and consistently so!  It was the first room of its type ever built and boasts that 85% of the seats are less than 65 feet from the stage – making the cheap seats a real value.  The room was filled to near capacity by an audience that spanned the ages.  I did find myself to be in the minority as I was one of the few gentlemen not wearing a tie.  But hey, one day earlier I was photographing Furthur at Red Rocks with 10,000 hippies, so my tie-dye was dirty.  [Editor's Note: See Jim's photos of Furthur here.]
CO Symphony and Branford Marsalis:  In today's digital world, iPods and Pandora tend to dictate the way many people take in music.  I was extremely happy to unplug from the status quo and see the Colorado Symphony in all its analog glory.  From the opening notes of the "Star Spangled Banner," I knew this was going to be a completely different experience than I was used to and was thrilled to have the opportunity (and one of the best seats in the house).
In the interest of full disclosure, I was attracted to this show when I saw Branford Marsalis was the featured guest.  I was first introduced to him when I heard the Grateful Dead's live album Without a Net, on which he makes a guest appearance on "Eyes of the World," which is, in my opinion, one of the greatest later-day Dead performances.  That performance pushed me to seek out his music and I discovered "I Heard You Twice the First Time," an American Jazz standard of modern times, and his collaborations with so many of New Orleans' best artists.  It was this exploration that finally landed me at Boettcher Concert Hall last Friday night. [Editor's Note: Marsalis sat in with Greatful Dead spin-off band Furthur on Sunday night at Red Rocks.]
The weekend's performances were the opening of the Masterworks series featuring Andrew Litton as conductor and musical director.  Mr. Litton is world-renowned for his work with symphonies around the globe and his presence on stage was as large as his resume; almost commanding the audience as well as the large group of musicians in front of him.  The show opened with a rendition of the national anthem, followed by the opening piece, Borodin's "Overture to Prince Igor."  This opening number for me was the pallet cleanser; it cleared out all the amplified, processed sound from my mind's ear, setting up a fresh, clear canvas on which to paint the evening's musical masterpiece.  The second number, Glazunov's "Saxophone Concerto in E-Flat Major," welcomed Mr. Marsalis to the stage and showcased his masterful skills.  The interaction with this many musicians while still focusing on Marsalis was an elegant dance I enjoyed watching unfold.
The next section of the performance was derived from the score to the Steven Spielberg film Catch Me If You Can, a perfect fit with its predominate saxophone line that gave Marsalis his much deserved spotlight.  At times I couldn't help but feel like I was in a scene in a movie; I was waiting for Tom Hanks to chase Leonardo DiCaprio across the room.  I think this section was my favorite part, given its roots in Jazz rather than Classical music.  Of course, featuring Marsalis, it was the cherry on my symphonic sundae.  The remaining section of the evening was Shostakovich's "Symphony No.10 in E Minor," and was what really won me over in the end.  The ebb and flow through these sections was outstanding, giving a tangible example of true, unadulterated dynamics.   With swings in volume from 40db and quiet plucks on the strings to 95db with all instruments playing, the intensity of the performance was something you could feel (yes, I monitored the volumes via my sound meter app on my phone).  The entire performance was outstanding and though it was Marsalis' contributions which drew me in, I left with a true appreciation for the complete experience and for that I give my kudos and accolades!
In this tumultuous era of digital dominance where the loudness war rages on, I found peace in the analog world of the CO Symphony where things like dynamics, musical excellence, and purity of sonics are fundamental.  As someone who sees a lot of live music, I am often looking for something different.  Well, who knew that the freshest show in town is also the oldest?  Do yourself a favor, go sit in the best room in Denver and see the Symphony soon!
Energy: B
Musicianship: A+
Sound: A+
Stage Presence: A
Set/Light Show: N/A
Overall: A
Capturing life in various forms is what I do. I consider myself an archivist by nature. It is not a career choice that I consciously made, but it is something that has called me. I strive to freeze a moment in time with every frame, a moment that can retell its story with each viewing, forever. I also have a deep passion for music and have been photographing and recording live music for years. Capturing the energy and magic of a live performance in a photograph is one of my passions. In addition, I enjoy photographing in a wide variety of settings, from wildlife scenes to family portraits and everything in between. I am a lover of the earthscapes that we see all around us every day, both natural and manmade, and aim to make unique images that do justice to their beauty. Where others see darkness, I see streaks of light through long exposures. I shoot a very wide variety of subject matter including individual/family portraits, event coverage, landscapes, live concert/performance, HDR, product and commercial photography, architectural, weddings, food, and editorial photo journalism. With artistic expression, I aspire to create visual art that speaks volumes.