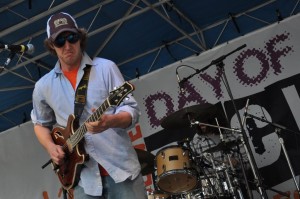 All Photos By Tim Dwenger
The 3rd annual Denver Day of Rock, put on by Concerts for Kids, took place last Saturday on and around the 16th Street Mall in Downtown Denver.  While the Festival was lacking the marquee names necessary to make it really relevant to the hipster and "in the know" music fans around town, those who don't get out to much music anymore probably found the line-up right up their alley.  The headliners included Styx frontman Dennis DeYoung, 90's rock veterans The Gin Blossoms, and Boulder's own The Samples.   We need to give some credit to the organizers for trying to reach out to a younger crowd by booking Trevor Hall and Oakhurst to top the bill on two of the smaller stages, but what was really great about this festival was the exposure it gave to some up and coming bands on the front range scene.
Though we only made it down to the festival for a few hours, The Congress, Bop Skizzum, and Boulder Acoustic Society all sounded great and drew very respectable crowds.  The Congress took the stage at about 3:30 and got the crowd moving with their own brand of Americana Jam Rock.  Guitarist Scott Lane displayed considerable chops as he shredded his way through a very strong set of original songs, while lead vocalist and rhythm guitarist Jonathan Meadows showed everyone in attendance that the vocals don't have to be the weak link in a jamband.  Toward the end of their set they ran through a crowd pleasing cover of The Band classic, "The Shape I'm In," and shortly after yeilded the stage to Bob Skizzum who upped the anti a bit with their high energy, horn laced funky dance music.
Over on another stage, Boulder Acoustic Society was playing to a crowd several hundred strong and had the balls to step down off the stage and out into the crowd to play a couple of songs completely acoustic, with no amplification at all.  While those in the crowd that packed in tightly around them clearly loved the intimate experience, they acknowledged that they did loose a few folks in the back who stood no chance of hearing.  The Boulder Acoustic Society set consisted of a host of original tunes that walked the fine line between folk, bluegrass and rock and several classic cover tunes in the same vein.  They hit on John Prine's "Angel From Montgomery," Steve Earle's "Oxycontin Blues," and Woody Guthrie's (via Billy Bragg and Wilco) love song to actress "Ingrid Bergman."    Though they have been on the scene for a few years now, it was my experience with their music and I can assure you I'll be back for much more.
As we headed down the mall toward our car, we stopped by Roger Clyne & The Peacemakers set for a few minutes of rowdy barroom country influenced rock that had a crowd of a thousand or more singing along and pumping their fists in the air.  Overall, despite the chilly temperatures that came as clouds blew into the area, the crowd seemed to be having a great time up and down the mall.  There were kids everywhere and plenty of adults having their fun on a Saturday afternoon in the city.  Sure, it wasn't a cutting edge line-up, but there was a little something for everyone at this year's Denver Day of Rock.
Music has always been a part of my life. It probably all started listening to old Grateful Dead, Peter Paul & Mary, and Simon & Garfunkel records that my parents had, but it wasn't long before they were taking me to concerts like Starship, Crosby, Stills & Nash, and Huey Lewis & The News. I got the bug to write about music after reviewing an Eric Clapton concert for a creative writing project in high school but didn't really take it up seriously until 2002. Since then I have published countless articles in The Marquee Magazine and done some work for Jambase.com, SPIN Magazine, and various other outlets. I started Listen Up Denver! as a way to share the music information that is constantly spilling out of my head with people who care. Please enjoy!