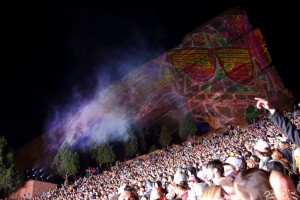 Photos by Michael Liggett
The Scene: The sold-out show, suitably dubbed "Rowdytown," drew thousands of people to the fabled Red Rocks Amphitheatre last Saturday night. The majority of the crowd was made up of teens and early 20-somethings, but there were a few older kids who haven't yet abandoned the wompy music scene. However, Big Gigantic, with openers Adventure Club, Carnage, and Manic Focus, made me realize why the older kids refuse to move on: it's one hell of a party. What's wrong with wanting to throw your arms all over the place and dress up as a space monkey? Seemingly nothing.
Opener: Adventure Club.  Due to the utter chaos regarding the entrance to "Rowdytown," I only caught one opener. (Note to self: avoid the stairs at all costs and only take the ramp ways when entering Red Rocks. Now that I say this, the ramps will be packed. Just my luck.)
The only thing that could have gotten me out of the I-just-waited-in-line-for-an-hour-and-a-half funk was seeing Canadian-duo Adventure Club give a dubtastic performance. Their set-up was simple (it looked as though they brought a fold up beer pong table to put all of their equipment on) but their lights were fantastic. Furthermore, Adventure Club's sound focused more on the electronic aspect of Dubstep with lots of remixes and some mash ups, which I loved. They played their hit single, "Rise & Fall," to a very satisfied crowd but the song that really killed it was the sensual "Crave You." This set was a perfect precursor for the dance party that was about to ensue.
Big Gigantic: As the set break ended, saxophonist/producer, Dominic Lalli, and drummer, Jeremy Salken, emerged and the crowd erupted into a rowdy uproar as people chanted in unison, "ROWDYTOWN." Once the first sign of livetronica splendor rang out from the dynamic Colorado duo, everyone (space monkeys and all) began to rock out. Blends of Hip-Hop, Jazz, and electronic melodies filled the cool skies over Red Rocks and the thousands of people attending exchanged high fives and vaporizer pens.
One of the most notable tracks performed was the popular Kanye West track, "Get Em High," from his College Dropout album.  Lalli's talents as a producer shined through on this one, as he displayed the perfect blend of Hip-Hop and "soft" Dubstep (if such a thing exists). Following this was a personal favorite of mine and Big G throwback, "Lucid Dreams," from their 2010 album, A Place Behind the Moon. "Dreams" focuses on Lalli's immaculate sax playing abilities and truly tests his lung capacity. Further, Salken really seemed to be at home with this track judging by the sheer joy on his face.
Perhaps the most challenging aspect of this show was choosing where to focus one's attention. If you haven't heard, Rowdytown is known for the intricate light display on the surrounding rocks. It was a hard decision, but, having seen Big Gigantic several times before, I predominantly chose the rocks and I'm glad I did because during their final song, "I Need a Dollar Remix," a beautiful array of dollar bills fluttered down the natural majesty of this venue, finishing off one of the best dance parties of the summer.
Energy: A
Musicianship: A
Sound: A
Stage Presence: A
Set/Light Show: A+
Overall: A
Lindsay was born in Georgia, raised in Florida, and moved to Colorado when she turned 18. All Lindsay asks for in life is music, hoppy beer, and the written word. The necessities of family, friends, water, and food naturally follow.