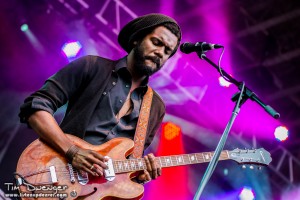 Photo by Tim Dwenger
Why You Should Go: The only thing growing faster than Gary Clark Jr.'s acclaim — among fans, critics and iconic musicians alike — is the scope of his talents and tastes.  It all comes very naturally to the young musician; a triple threat guitar-slinger, emotive singer and involving songwriter, a virtuoso on all fronts but one who always honors feel over chops. The results are sonic journeys that are equally soulful and psychedelic, in the deepest sense. Whatever terms used, the music is ever-thrilling and involving.  His one-to-watch appearance at the White House command performance for the Obamas alongside Mick Jagger, B.B. King, Jeff Beck and Buddy Guy — prompted the Music Fan-in-Chief to remark, "He's the future."  Don't miss your chance to see the future this Friday night at The Ogden Theatre!
Venue:  The Ogden Theatre, 935 E. Colfax Ave Denver, CO 80218 – 303-832-1874
Doors: 8:00 pm. Showtime 9:00 pm.
*Price: $27.50 Adv. $30.00 DoS.
Buy Tickets
*All prices are gathered from other sources and we are not responsible for mistakes or inconsistencies. They are intended only as guidelines. Please, always call the venue if you desire the most accurate information possible.