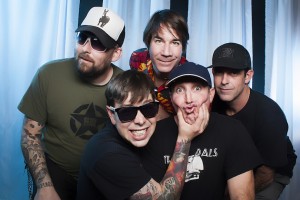 The Scene: Enter The Marquis Theater. It is dirty and old but smells of pizza. Delicious. You are surrounded by a variety of the Punk rock "usual suspects." Both young and old, the crowd is freckled with leather, studs, tattoos and Mohawks. Everyone drinks PBR. A mosh pit is certainly on the horizon. There's nothing like a good ol' fashioned Punk show. They don't make 'em like they used to, but every once in a while you catch one that takes you back—and you remember what Punk was really all about in the first place. All of us have felt like we didn't fit in once or twice in our lives, have felt the pressures of society to conform, and have wanted, as some point or another, to scream out—to express ourselves—and to not give a flying fuck about the outcome. That's what it's all about, expression without fear of repercussion. Maybe that's why it is so attractive to teens; that dark angry byproduct of transitioning from child to adult pairs perfectly with the vocal nature of Punk rock. For those of us who grew up listening to Punk, every Guttermouth show is a trip down memory lane–and Saturday's performance at The Marquis Theater was no exception.
Opener: Trade-Ins. The night was kicked off by the Trade-Ins, a local group who playfully refers themselves a "band of time travelers and dimensional hybrids [who] have to bring you the rock soundtrack of the past, present and future." Formed in 2011, the band is still a baby compared to the likes of Guttermouth and Agent Orange, but when they finished the set, there was one question hanging on everyone's minds and slipping past their lips: "Who was that band?" and while most people might not think of that as an impressive report, ask yourself this, when was the last time you saw an opener that you had to know the name of? Let's just say they turned some heads.
Second Act: Piñata Protest. The Trade-Ins were followed by Piñata Protest of San Antonio, Texas, and let me tell you what, these pinche cabrones know how to rage. If Punk rock and Norteña had sex and made a baby, it would be called Piñata Protest—and that baby would smash your face into your face. The band, headed by a cowboy-hat wearing, accordion playing gaucho, popped the excitement of the crowd to the next level. Their set was a rowdy Spanglish ramble of their own musical renditions, dotted with a few Mexican favorites; "La Cucaracha" was muy popular.
Third Act: Agent Orange. The notoriously gritty Agent Orange. If you don't know the name, you don't know Punk—they have been belting their own brand of the genre since 1979. Yep. 1979. They are said to be the first to combine Punk and surfer music, and hold the title as the "Original OC Punk" band. Their old-school vibe provided a nice segue into the headlining act.
Guttermouth: So if you are reading this, chances are you are already familiar with Guttermouth's poppy '80s punk sound and classically hilarious lyrics. Most of their songs are pretty much a blazing "fuck you" to the world around them and they don't give a rat's ass what anyone thinks about it. Frontman Mark Adkins is definitely getting older–but with his younger backup team, the band delivers a nostalgia that few new Punk bands can produce. The newer additions to the band include Geoff Armstrong and Dave Luckett on guitar, Adam Williams with bass, and Justin Van Westbroek on drums. Energy levels were high, their stage presence was great, and the band delivered a massive performance, but Mark's vocals waned at times–you have to give Mark credit for still doing what he does, but at times it seems like he relies on his band to carry him through the songs. It doesn't help that the sound levels on his mic were off. The set and lights were nothing to write home about, but it's not like anyone goes to a Punk show for the lasers anyway. No frills. Isn't that appropriate?
They did songs from a variety of albums; classic numbers like "Lucky The Donkey," "Lipstick," "Do the Hustle" and "1,2,3 Slam!" were not left out of the mix and water-throwing and spitting (as usual) were not forgotten either. Yet the fans keep coming back. I mean, it's gotta be good if fans enjoy your music so much they will literally let you spit on them. And that is why Guttermouth is awesome. That is why they are Punk. They are expressive and angry yet comical; they do crazy shit sans concern for what others think of them–and people eat that shit up.
Energy: A+
Musicianship: B+
Sound: D
Stage Presence: B+
Set/Lights: C+
Overall: B+

Audiophile. Logomaniac. I must get to the show.