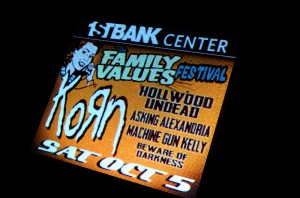 Photos by Todd Radunsky
The Scene: If you don't think much of family values in this day and age, think again. Korn brought their Family Values Festival to Broomfield's  on Saturday night for a one night only jamfest that included the rock band Beware of Darkness, Hip-Hop/Rock prodigy Machine Gun Kelly, English Metalcore ragers Asking Alexandria, Rap/Rock band Hollywood Undead, and of course, the guys who put the "heavy" in Heavy Metal…. Korn!
Opener: Machine Gun Kelly.  The show started early, which is rare in the music business. So early in fact, photographers and concert reviewers alike couldn't get in to see Beware of Darkness–they were just finishing their last song when we showed up. That's okay though–the other four bands more than made up for it.
Machine Gun Kelly brought his youthful yet tough persona and rapid fire style of rapping to the stage before the raucous audience and started a wave of moshing and crowd surfing which only got more intense as the night progressed. A girl screamed as if MGK was Paul McCartney circa 1966 and at that same moment it became apparent that people were getting smashed on the barricade and security began pulling the breathless fans over the wall. Just what the doctor ordered. Chaos! MGK was loving every minute of it, slamming his bottle of Patron and jumping up and down to the rhythmic hardcore bass and power of his own music. His set was short and sweet–a perfect way to get the night off to a fresh and rowdy start.
Opener: Asking Alexandria.  Thanks to a revolving stage, set changes went by quickly and smoothly leaving little time between bands. Simple and effective. Asking Alexandria and Hollywood Undead kept things going strong–both bands sounded super tight and the crowd knew it. Several mosh pits formed on the general admission floor for both bands. During Asking Alexandria's set, the crowd surfing and moshing turned into fighting and security had to haul some people out of the venue. At most festivals this would be unheard of, but not here. People don't come to concerts like this to dance like a hippy; they come to slam into each other and bang their heads into imaginary walls–and this is what they did.
Opener: Hollywood Undead. Hollywood Undead directly preceded Korn with their unique mix of Rap and Rock and ignited the people into a frenzy. As usual, each band member was wearing his own unique mask; some were scary and others seemed to make a political statement, but all of them made the scene that much more trippy and wicked, creating an intense vibe that the crowd fed off of. Most of the band members had their own spot on the mic and each one had his own style of vocals. Simply put, Hollywood Undead blew the crowd away.
Korn: When Korn took the stage, everyone in the venue was primed, including the hundred or so fans who got lucky enough to sit in the "Korn Kage"–a monstrosity reminiscent of a jail cell sitting directly behind the band on the stage. The cage housed dozens of fans losing their minds while watching their favorite band from a rare and close proximity. Sticking their tongues out and flashing devils horns with their fingers to the crowd amped the madness to an even higher level .
Band frontman Jonathon Davis took one look at the crowd and said something like, "All I can see are chicks dancing, and big, buff mother fuckers beating the shit out of each other. This is a great day!" And with that, Korn kicked off their performance. Thunderous bass mixed with Davis' wicked throaty vocals; it was a spectacle that would've sent any fan of this genre into pandemonium, and that's exactly what happened. Fans started pouring over the barricade in droves by the middle of the set–they were either crowd surfed up to the front and over the wall or they were forced by other fans over the barricade, otherwise they would've been crushed. Korn played an 18 song set of non-stop intensity and raw power. Even Machine Gun Kelly ran into the pit with the photographers to get a glimpse of the band and feel their energy. Gotta love that kind of support! The night was a total success and left every fan sweating, smiling, completely exhausted, and officially blown away.
Energy: A
Musicianship: A
Sound: A
Stage Presence: A
Set/Light Show: B+
Overall: A
I work in the music industry photographing bands live and offstage for publicity. My work includes shooting concerts, festivals, and portraits of musicians and bands. I shoot for promoters, record companies, publicists, magazines, band managers, and individual musicians. I also photograph weddings, and portraits and have traveled the world to do so. I've shot weddings in Cali, Ireland, Mexico, Cape Cod, and Amsterdam to name a few.