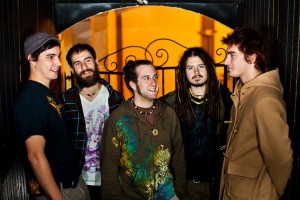 The Scene: When I walked into the Ogden Theatre last Friday night I must admit I was a little worried. The place was dead. Granted it was only 9:00 but I've never seen The Ogden that sparsely populated at show time on a Friday night. I thought that maybe it was the weather as Denver was experiencing its first chilly snap of the season; or maybe it was the fact that a very similar band, Lotus, had rescheduled their Red Rocks show for the same night; or maybe it was that Papadosio had gotten too big for their britches, it seems like every time they have come to Denver they have played a bigger venue. I would soon be proven wrong.
Opener: Yamn. I've been seeing Yamn for the past five years but I had not seen them with their new (or at least new to me) keyboard player, Eric Blumenfeld, who just so happened to be having a birthday. Yamn brought a festival vibe to the stage; although their set started out with a floating piano riff, the band soon fell into their synth soaked, highly danceable, kick-ass Rock with guitarist Brian Hamilton shredding every step of the way. The last two songs were a rocking version of The Beatles' "I Am The Walrus" followed by a dancey, talk box laced swan song featuring Sam Brouse of Papadosio on the electric piano. By this time the dance floor was full and as I descended from the balcony the line for tickets was down the block. Yamn had gotten the folks inside nice and limber, and although they are a headlining act in their own right, they certainly did their job as an opener.
As the place began to fill up we were treated to a DJ set from Papadosio's guitarist Anthony Thogmartin who goes by the name of EarthCry. His down tempo, arpeggiated Tribal Trance, although fairly mellow, kept the energy buzzing. Thogmartin's set was pretty long for a tweener and he graciously thanked the crowd before seguing into his last few numbers, bringing out Papadosio's stunning visual show, which really got the crowd's attention. With anticipation built, Thogmartin thanked the crowd once more and walked off stage to rally the troops, and we prepared for the auditory and ocular treat that is Papadosio.
Papadosio: The band came out to a fervor of claps, whoops, and whistles—they are well loved here in Colorado—and got right down to it with the hippy-trippy "Garden." The song eased into itself with a steady groove and funky bass line from drummer Mike Healy and bassist Rob McConnell. Thogmartin then added a layer of shimmering guitar with electro bells and whistles provided by the Gemini keyboard attack of brothers Sam and Billy Brouse. "Garden" speaks of a place that is utterly beyond, where you are "a stranger to yourself." I echo Thogmartin's sentiment in that "I would like to know a little more." It is a mystical song. "Garden" faded into the infinitely optimistic "Taking Turns" showcasing Thogmartin's mastery of tasty guitar riffs in just the right place. The song lives up to its name as the band journeys through different musical phases, some rocking hard, some mellow, that each seem to feature a different member of the band.
After "Taking Turns" the band busted out a fairly new one entitled "Dream Estate," for obvious reason as the song was like a trip through a Salvador Dalí painting or a Carlos Castaneda novel. Speaking of painting, the Papadosio visual light show was amazing. Consisting of vertical, rectangular strips of LED lights that allowed us to walk among the Moai of Easter Island or trip through a land of geometric shapes reminiscent of the game Q-bert, or just provide a glittering back drop. The visual feast, however, did not distract from the next two songs, which really showcased Thogmartin's songwriting skills.
"All I Knew," one of the band's staples off the Observations album, is a song that evokes a childlike innocence, and perhaps the loss of that innocence. But the song is nostalgically positive with a tricky melody played on guitar and doubled by Thogmartin's vocal. The song smoothly transitions into a dancey-trance groove with a great guitar lick that kept heads bobbing and limbs flying. "What's At Stake," a song about gay rights, really showed a socio-political side to Thogmartin's songwriting. Papadosio has done something unique in the Jamband world–they have skillfully combined a singer-songwriter stance with a group of top-notch musicians operating outside the normal tropes of the Jamband canon. This is why they have been so successful, because they have rejected imitation and embraced innovation.
The band really hit the meat of their set in a tasty sandwich beginning with "The Bionic Man Meets His Past" into "By The Light of the Stars," and ending with "We Choose." As the lights faded out and the band expressed their gratitude, I thought back to when my band, Whiskey Tango, opened up for Papadosio way back in 2010 at Quixote's. I knew back then that they would be a band to watch out for and as I mentioned earlier, every year they have played a bigger venue, from Quixote's to Summit Music Hall to the Bluebird and now the Ogden. Expect them to be at Red Rocks real soon, this time on the big stage.
Energy: B+
Musicianship: A-
Sound: B+
Stage Presence: B-
Set/Light Show: A+
Overall: A-

Nate Todd was born on the central plains of Nebraska, but grew up on the high plains of the Texas panhandle. With not much to do in either place, music was his constant companion. His parents dubbed the first two albums he ever owned onto a tape for him. Side A was Bert and Ernie's Sing Along. Side B was Sgt. Peppers. His lifelong love affair with music started early as he practically grew up in a Rock & Roll band, with his father and uncle often taking him out on the road or into the studio with them. Nate began performing live at sixteen and hasn't looked back, having played in numerous bands from L.A. to Austin. At the age of twenty he was bitten by the writing bug, and upon moving to Denver decided to pursue a degree from Metropolitan State University where he recently graduated with a B.A. in English and a minor in Cinema Studies.