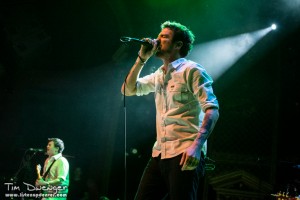 Photos by Tim Dwenger
The Scene: Last Wednesday Frank Turner and The Sleeping Souls turned The Ogden Theatre into a Punk Rock church as a nearly full house sang along, pumped their fists and generally swooned as Turner and his band serenaded them for 90 minutes.  There were teens moved from their angst by Turner's lyrics and buttoned up 9-to-5ers who had recently become hooked on his Folk-Punk, dancing right alongside 30 somethings who clearly had been fans of Turner's Post-Hardcore project, Million Dead.  Somehow it all seemed to work perfectly.  The energy in the room was almost eerily positive.
Frank Turner and The Sleeping Souls: Simply put I felt like I was baptized into the church of Frank Turner last week.  The passionate energy that spilled fourth from Turner and his band carried with it a raw positivity that I hadn't experienced at a show in a long time.  From the first notes of "I Still Believe" to the last strains of the encore, nearly every person in the room sang along with every lyric at the top of their lungs.  Each time I looked around the room I was blown away by the numbers of people completely lost in the music.
While Turner's music has hallmarks of his Punk roots; from call and response choruses and audience participation to simple, yet powerful hooks, it also has a strong Folk vibe as the often complex lyrics touch on social, political and personal issues.  The crowd raised their voices in unison to sing "because there never was no God," the refrain to Turner's "Glory Hallelujah" and later "I'm a Wessex Boy and when I'm here I'm home" from his "Wessex Boy."  While the first is a commentary on religious beliefs, the latter delves deep into the complex feelings most of have about visiting our hometown after moving away and Turner handles both with the ease of the accomplished songwriter he clearly is.
I'm not going to sit here and tell you that I became a devoted Frank Turner fan last week, but I will say that his show opened my eyes, entertained me and even got me pogoing a little.  At times his music reminded me of The Hold Steady and at other times of the Celtic Rock that bands like Saw Doctors and the Young Dubliners turned me on to.  Overall Frank Turner and The Sleeping Souls proved that singing positive Punk music is very definitely cool these days and I applaud them for that.
Energy: A
Musicianship: B
Sound: A-
Stage Presence: A
Set/Light Show: B-
Overall: B+
Music has always been a part of my life. It probably all started listening to old Grateful Dead, Peter Paul & Mary, and Simon & Garfunkel records that my parents had, but it wasn't long before they were taking me to concerts like Starship, Crosby, Stills & Nash, and Huey Lewis & The News. I got the bug to write about music after reviewing an Eric Clapton concert for a creative writing project in high school but didn't really take it up seriously until 2002. Since then I have published countless articles in The Marquee Magazine and done some work for Jambase.com, SPIN Magazine, and various other outlets. I started Listen Up Denver! as a way to share the music information that is constantly spilling out of my head with people who care. Please enjoy!