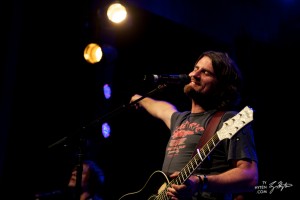 Photos by Ty Hyten
The Scene: A sold-out crowd of all ages packed the Gothic this past week for Pop singer-songwriter Matt Nathanson. The heavily female crowd was not shy and the beer flowed with no regard for the impending Wednesday morning. White overhead lights lit the venue the entire night for the large HDTV cameras that were broadcasting the show on AXS TV as fans sang and laughed with Matt.
The Opener: Joshua Radin. Joshua Radin shared stories behind his songs and played a gentle but captivating performance. He connected with fans the same way Nathanson is famous for – funny banter and stories about his songs.  He even set up a meet and greet for fans who arrived early.
Matt Nathanson: Matt Nathanson, no stranger to the road having toured on eight albums, is a true performer. His shows tend to play out as half music, half standup comedy; with anecdotes and observations between songs. Tuesday was no different, though I'm not sure if it was the TV cameras or his rise in popularity, but his banter was much more PG than shows I've seen in the past.
Nathanson opened with "Mission Bells," the first track on of his 2013 chart topping album Last Of The Great Pretenders, a poppy disc chock full of references to his current hometown of San Francisco. He worked his way through a nineteen song set, which he had humorously broken into three sections labeled "Vertigo," "Acoustic," and "Psycho" on his setlist.  Matt teased several covers mid-song throughout the night, including "Mr. Brightside," "I Wanna Dance With Somebody,"  and "Under Pressure." He also shared a long story of a fan tracking down the locations mentioned on his new album and correctly locating the waitress at the heart of "Kinks Shirt." After a lot of singing, clapping, and laughing, the night ended with an encore including radio hits "Faster" & "Come On Get Higher." After not listening for several years and being unfamiliar with his last few albums, I was still extremely entertained by Nathanson's energetic performance.
Energy: A
Musicianship: A
Sound: A
Stage Presence: A
Set/ Light Show: B+
Overall: A