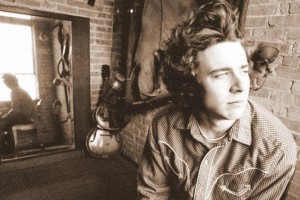 Why You Should Go: It's been more than 5 years since Joe Pug quit his day job as a carpenter, but his remarkable rise in the music world has been driven by the same hard-worn work ethic. His path has been an unusual one, which has often challenged the traditional rulebook of the music industry, but it has always been characterized by one prevailing idea: Find a way.
After dropping out of college the day before he was to start his senior year, he moved to Chicago and picked up the guitar he hadn't played since his teenage years. The songs that he wrote would eventually become the Nation of Heat EP, a self-released gem that has gone on to sell over 20,000 copies. It was in those heady early days that the idea was born for a unique promotional strategy that would launch Pug into the national consciousness. In an increasingly fragmented and disorganized music industry, it was harder and harder for a new artist to break through the white noise. With no publicist and no access to radio, Pug decided to recruit his fans to help spread the word. He took his most popular songs, printed up CDs, and offered to send them free of charge to anyone who wanted to share his music with their friends. And share they did. The impact was immediate and undeniable. "Suddenly we'd be rolling into towns that we'd never been before and there would be crowds there who knew the songs. Our fans essentially became like a radio station for us, and they still are."  Don't miss your chance to be a part of this amazing grass roots movement this Friday at the Larimer Lounge!
Venue:  Larimer Lounge, 2721 Larimer Street, Denver, CO – 303.291.1007
Doors: 7:30 pm. Show starts at 8:30 pm.
*Price: $15.00 Adv. $17.00 DoS. Buy Tickets
*All prices are gathered from other sources and we are not responsible for mistakes or inconsistencies. They are intended only as guidelines. Please, always call the venue if you desire the most accurate information possible.