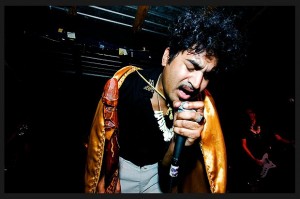 The Scene: A friend told me that the current drummer for the garage rock and psychedelic soul band King Khan & the Shrines is a dead ringer for the Slovenian philosopher, Slavoj Žižek, except with a beard about a foot longer.  Given KKTS's alchemistic qualities, I could have easily believed that the actual Žižek was at the back of the Larimer Lounge stage, nonchalantly dishing out beats to the scene before him, perhaps observing about the most real reality ever to unfold before him.  Led by Arish Ahmad Khan, a rotund Canadian-Indian phenomenon otherwise known as King Khan, the entire scene that took place once Khan and the eight other members (the Shrines) took the stage was evangelical, fantastic, and maybe, a dream.  I stopped counting when I hit 8 black leather jackets and creepy ironic moustache number 4.
Openers: Best Creeps & HellShovel.  Setting off the surreal adventure was Best Creeps and then HellShovel.  Best Creeps had a dash of The Coathangers punk, playing energetic garage rock.  Then HellShovel took over.  Described as Psychedelic Country Rock-n-Roll, HellShovel upped the rock ante with their songs "Summer's Over" and "Pinyata Sonata" off their new album.  Looking pretty comfortable on stage, the psychedelic description may have originated from frontman Jeff Clark performing bare footed and the other guitarist's Black Crowe-esque hip length plaid scarf, leather vest, and skinny jeans.
King Khan & the Shrines: Sauntering out as the Shrines started playing, King Khan arrived ready to preach.  Wearing a gold blazer, black shirt and pants, and his trademark animal tooth necklace and pseudo-jerry curl, King Khan wears his intensity, literally.   My guess is that this sartorial flamboyancy enables him to casually drop phrases like "slap your asses together" in the same tone you might say "double espresso to go" so that you find yourself complying before the message hits your brain.  It's hard not to though, as KKTS started up with some old favorites, such as "Took My Lady to Dinner," a song for "all the big girls that make the world go round."  Khan's voice is raspy, but he can hit the highs and lows with such emotion that you're convinced he does "love her" and "need her" desperately.  People were raising their hands, closing their eyes, and jumping up and down, ready to receive the Holy Spirit of Khan.
The Shrines, also wearing matching black pants and shirts with animal tooth necklaces, seemed larger than life as they took up the entire stage and then spilled into the audience.  The keyboard and the horn sections played manically, with their bedazzled capes swishing back and forth through the audience.  Meanwhile, next to Žižek the drummer, an older African-American man played a single drumhead, occasionally tossing in some sleigh bells and a shaker.  Wearing a King Khan band t-shirt (flipping that whole rule on its head) and white framed glasses, his devotion to his drumhead and accessories gave the impression that he was really just along for kicks.
He had the right idea though, as KKTS moved into their long standing hit, "Welfare Bread" for "all the young lovers with no money," and then "Bite My Tongue" and "So Wild" off KKTS's latest album, Idle No More.  Khan got on the guitar for "So Wild," which was written in tribute to the late musician Jay Reatard.  This song is exemplary of the attitude of Idle No More as a more reflective, and even subdued, effort looking back on the struggles within Khan and in the world today.  Not wanting to stop the party, Khan and the Shrines revisited the oldie "I Wanna Be a Girl," substituting instruments for a mass of tambourines.  Men everywhere in the Larimer found themselves singing, "I wanna be a girl!" with joy.  Continuing on with "Stone Soup," Khan eventually brought the service back full circle ending with the grateful "Luckiest Man" off Idle No More.
As if the encore were a foregone conclusion, Khan returned to the stage sans shirt, but now with a cape and a Cleopatra wig.  The encore appropriately ended with "No Regrets."  Khan and the Shrines imparted their last bit of gospel, singing, "I don't regret a thing, if I did it would be the same." We nodded in assent.
Energy: A+
Musicianship: A
Sound: B
Stage Presence: A+
Set/Light Show: B-

Patty is a Washington State native that was lured to Colorado by the sun and the mountains. When not listening to music, there is a pretty good chance she can be found eating ice cream.