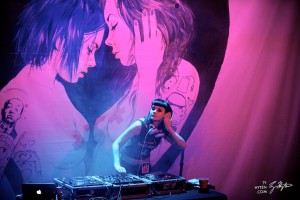 Photos by Ty Hyten
A line as long as any I've seen wrapped around the corner of 19th and Blake on Saturday night for an odd evening with the traveling gang of tattooed and pierced women that make up the SuicideGirls Blackheart Burlesque traveling team. I'll admit, it wasn't quite my scene, and I arrived unpierced, gauged  or tatted, with far too little beer in my stomach, but with an open mind. The crowd poured in slowly enough that the beginning of the show had to be pushed back. This afforded me enough time to walk around and take in the scenery. Twenty somethings dressed for a System Of A Down concert milled around, laced with a few remaining zombies from the earlier Zombie Crawl. A large drawing of two semi-nude women hung on stage behind an inked up beauty spinning straight forward top 40 hits spanning the last fifteen years. It seemed I had finally arrived at a show where I wouldn't be running into anyone I know, which is how I probably would have liked to keep it if it wasn't for my assignment. Oh well. I made my way back to the merch stand where young scantily clad women stood around signing autographs and smoking weed. Didn't see anything Mom might like for Christmas. It was time for a drink.
The stage dimmed and the night proceeded with a series of themed dances and crowd-play from women often wearing nothing more than panties and tape. Costumes included gorilla masks, space helmets, and Batman and Storm Trooper masks to name a few. The acts were far less graphic than I had expected based on the promo video and the number of old men standing alone in the balcony before the show. Tape and pasties obscured curious eyes and the bottoms stayed securely fastened but it was still enough the leave a few jaws hanging. Some of the crowd left with more than an eyeful, with one dancer pouring shots of Jack into fans' mouths and another smearing cake on her body while throwing chunks into the audience. Good thing my colon cleanse allows one cheat day a week, because I was able to eat decent amounts of cake and icing off of my shirt and camera bag. They did not spare the cameraman.
I can't pretend I know much about dance, but I what I saw seemed well choreographed and far more interesting than the halftime show at a Nuggets game. The night stuck mostly to dance, passing on other burlesque staples like jokes, rolling through glass, fire blowing, and sword swallowing midgets. But I guess that's what 16th Street is for. Despite feeling a little out of my element, I really did have a good time and applaud the dark women of SuicideGirls.