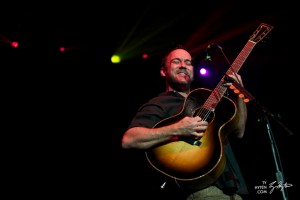 Photos by Ty Hyten
On Sunday night, a handful of Colorado's most popular and well respected artists got together with the one and only Dave Matthews to stage a Flood Benefit concert at 1st Bank Center in Broomfield.  The evening featured sets from Nathaniel Rateliff, The Fray, and DeVotchKa before Dave Matthews took the stage for a solo set that featured "You & Me," "The Space Between," "Crazy" and a cover of John Denver's "Take Me To Tomorrow" that he has been playing during his solo sets over the last year or two.
The Lumineers whipped the crowd into a frenzy with a booming rendition of their mega-hit "Ho-Hey" and took the opportunity to debut a brand new song called "Duet."  The evening closed with a high energy and cover filled set by longtime Colorado stalwarts, Big Head Todd & The Monsters.  Their set featured guest appearances by Drew Emmitt of Leftover Salmon and Hazel Miller and renditions of Led Zeppelin, The Rolling Stones and Joe Walsh.
All in all it was a monster night of music that raised more than $500,000 for flood relief.  Well done!