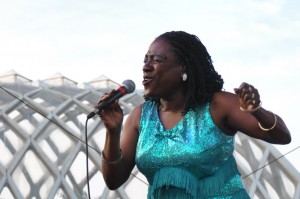 All Photos by Tim Dwenger
The Scene: The season opener of the Botanic Gardens Summer Concert Season seemed to be moving along as expected when we showed up to grab a spot in line just before 5 on Wednesday afternoon.  There were already a hundred or more folks in line, lounging in lawn chairs and sipping wine or beer from their coolers in the perfect late afternoon weather.  The staff was busy measuring chairs to be sure they met the <24″ height restriction but as the time crept closer to 6pm when the gates were supposed to open, I was struck by the fact that it just didn't seem anywhere near as crowded as a typical show at The Gardens.  When we were let in, we quickly found a spot on the hill facing the stage and it rapidly became clear that this show was no where near sold-out, a rarity for a Gardens summer show.  In fact, by the time The Dap-Kings took the stage there were only a few couples perched on the hill behind the stage, when it is typically packed blanket to blanket.
While the "wine and cheese" crowd (read: upper middle class white couples in their 40's and 50's snacking on Brie and crackers while sipping a nice Chardonnay) was represented in force as usual, I noticed that there was a good showing from a hip set of 20 and 30 somethings as well.  It was clear by the ticket sales that Sharon Jones & The Dap-Kings is not a name that is recognized among the typical Gardens patrons and the $50+ ticket price probably scared off some of her hard core fans.  However, for those of you scared off by the ticket price, remember that you can bring in all your own food and refreshments, alcoholic or otherwise, so you don't have to spend a penny at the show.  Contrast that with a $25 dollar ticket to a show at The Fillmore (+ $12-$15 in charges) and a $10 beer or two, and you are pretty quickly surpassing the $50 price tag of The Gardens.  If it's not all about money, remember that you get to sit with your friends, munch on your own picnic with your choice beverage, and enjoy some fantastic music in a pristine setting.  Overall it's a pretty good deal, especially considering the talent they are brining in this season.
The only thing that those considering dropping some hard earned cash on a ticket should be aware of as a potential downside is that The Gardens has a strict noise level ceiling, so your eardrums may actually thank you the next day for not pummeling them into next week (not that that's always a bad thing.)  If you need more volume, feel free to make your way up front to the dance area in front of the stage, where there is almost always room to groove and the volume is louder.
Now that the sales pitch is over, let's get on to the show!
Sharon Jones & The Dap-Kings: As they approached the stage from behind, walking down the lawn, one thing was certain right off the bat: The Dap-Kings are indeed dapper.  Every member of the 10 piece ensemble was dressed in a black suit or dress except for guitarist Binky Griptite who was dressed in grey and served as the evening's emcee.  For a good 15 minutes the band warmed up, and got the crowd going before Ms. Sharon Jones was escorted to the stage in a shimmering green dress that boasted several layers of fringe that shook when she shook, and that was often.
The set relied very heavily on material from Sharon Jones & The Dap-Kings stellar recent release I Learned The Hard Way, with the band playing all but two tracks from the album.   They warmed up the crowd with the instrumental "The Reason" and then when Jones joined them they launched into the sultry strut of "If You Call" which allowed Jones to work the stage like the pro she is.  She even pulled up a lucky fan from the audience during "Are You Gonna Give it Back" who proved to be quite the dancer as he squared off face to face with soul queen and gave her a run for her money.
As the set went on the band offered up some of the funkiest tunes in the business and Jones gave the crowd a lesson on all of the old school dance moves, she was doing the swim, riding her pony, and yes, she even broke out the Funky Chicken.  It was a stellar example of working the room as she drew more and more tentative fans up front to shake what their mama gave them.
As Jones gyrated and bounced around the stage I knew it was only a matter of time until she commented on the altitude.  Sure enough, right after the band wrapped up Griptite's brand new song "New Shoes," she started to talking about the thin air but it sure didn't seem to slow her down much as she kept right on dancing through favorites like "The Game Gets Old," "Mama Don't Like My Man," and "She Ain't a Child No More."
As darkness fell, and it approached nine, the band seemed to be wrapping up the set with "100 Days, 100 Nights" from the album of the same name when Jones danced back to center stage after a brief conference with the their sound-man for a raucous take on a song she was born to sing, James Brown's "It's a Man's Man's Man's World."  It was a very fitting end to a first class soul revue that surely had many in attendance running home to tell all their friends about Sharon Jones & The Dap-Kings.
Energy: A
Sound: B
Musicianship: A
Stage Presence: A
Set/Light Show: C
Overall: B+
Music has always been a part of my life. It probably all started listening to old Grateful Dead, Peter Paul & Mary, and Simon & Garfunkel records that my parents had, but it wasn't long before they were taking me to concerts like Starship, Crosby, Stills & Nash, and Huey Lewis & The News. I got the bug to write about music after reviewing an Eric Clapton concert for a creative writing project in high school but didn't really take it up seriously until 2002. Since then I have published countless articles in The Marquee Magazine and done some work for Jambase.com, SPIN Magazine, and various other outlets. I started Listen Up Denver! as a way to share the music information that is constantly spilling out of my head with people who care. Please enjoy!