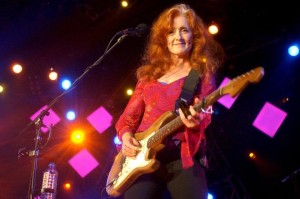 The Scene: I've been singing along to Bonnie Raitt tunes since I was a young girl growing up in Missouri and, having seen her perform once before at Red Rocks Amphitheatre, I had been anticipating her headlining show at Denver's Bellco Theatre for months. The 5,000-seat venue had to be sold out, if not close to it, as I didn't spot more than one or two empty seats in the house. The set on stage was gorgeous with vibrant panels of purple, blue, and black that would perfectly glitter behind the band and I couldn't wait for the soul shake-up to get started.  Raitt is always one to send me on a journey of unbridled inspiration. As we were told upon walking in, "Miss Bonnie doesn't like pictures" and unfortunately we weren't granted permission to photograph the show. Lucky for us, we wouldn't need a photo to remember how beautiful and amazing she is and will be for years to come.
Bonnie Raitt: As Bonnie Raitt, the legend, the one-woman powerhouse, the total package of rock star and femininity wrapped into one, walked onstage, I would guess I wasn't the only one whose heart beat a little faster as she was met with rousing applause and an immediate standing ovation. After advising the crowd to "strap in," Raitt let us know we'd be hearing a combination of old and new songs, some songs so old she asked the crowd to help her remember them by singing along.
Raitt is known for her catchy songs that empower women, lift sorrowed souls, and speak to generations of lives full of love, heartbreak, and strength. What I find most distinguishing of Raitt is her effortless vocals that reel you in and allow you to forget you're in the middle of a concert hall and instead force you to realize you're in the presence of a storyteller. I was listening hard, and I'm a huge fan of her music, and she did not miss one beat. Every lyric was spot-on, and every song was sung just as you'd hoped. With a classic backing band that allowed Raitt to shine but provided plenty of support, the show was opened up by "Real Man" from Raitt's 1989 Nick of Time album, and the set followed with a slew of classic songs including "Let's Give Them Something to Talk About" and her classic take on John Prine's "Angel From Montgomery." Throughout the night, we heard a combination of songs from older albums Nick of Time and Luck of the Draw, as well as popular tracks from her recent album release, Slipstream, including "Used to Rule the World" and "Million Miles."
The most touching moment of the night was when Raitt shared that she'd be singing "Dimming of the Day," a Richard Thompson song that she waited a long time to cover because he had done such an exquisite version of it. "I'm singing it tonight because I love it, and it's for someone special," Raitt softly announced. However each of us interpreted the song, it was hard not to find a tear in your eye thanks to Raitt's unbelievably soothing vocals and the rawness of emotion she poured into the performance. Knowing how much the song mattered to her made it matter to us, some of her biggest fans sitting in an intimate theater, as was obvious by the looks on everyone's faces and the soft humming along to the lyrics.
Promising us she'd be playing music for years to come, Raitt said, "I ain't turning this in. I ain't hanging up nothin', baby," and ended the night with a 30-minute encore that would first include a tribute to one of Raitt's mentors, Winona Laduke, an American Indian activist and environmentalist, and would later include a version of "Crazy Love" with opener Marc Cohn.
My friend and I were slack-jawed and wide-eyed all night as we sang along, jumped out of our seats to dance, and kept pinching each other with giddy excitement over how incredible this legend of a woman is. That's the thing – to me, and to most women who love Bonnie Raitt – she's not just a singer or a guitar-playing goddess – she's a symbol of breaking barriers and tearing down walls and building a life filled with strength and hope. Raitt is a woman listed in Rolling Stone as one of the 100 Greatest Guitarists of All Time, a redhead, a touring musician over the age of 60, and has paved her way through the tumultuous 70s, the competitive 80s, and the current state of mainstream's fixation on electronic Pop music and overtly sexual female artists. With a huge smile on her face and continually improving slide guitar chops, Raitt has carved her way into true legend status and is worthy of paying big bucks to see.
Energy: B-
Musicianship: A+
Sound: A+
Stage Presence: A
Set/Light Show: A-
Overall: A

After growing up in Missouri listening to vintage records of The Allman Brothers, Carly Simon, and Stevie Ray Vaughan, I was hooked to the live music scene and the contagious sounds of guitar licks and soulful lyrics. After moving to Colorado, I've been contributing to Listen Up Denver! as a freelance photographer and writer. I've also started a side project, KellYeah Photography, which gives me the opportunity to pair my passion for live music with my creativity and love of being around people. Aside from photography and writing, I'm an avid hiker of Colorado 14ers and a beer enthusiast.