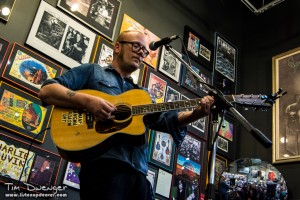 Photos by Tim Dwenger
The Scene: I have seen many in-stores at Twist & Shout over the years.  Some, like Trey Anastasio and String Cheese Incident, were more or less ticketed affairs with lines stretching around the block and scalpers getting top-dollar for wristbands.  Others, like Tuesday's intimate acoustic set with Mike Doughty, are much more mellow, laid back events.
Mike Doughty: I walked in to Twist a few minutes before Doughty was scheduled to take the small stage in the back of the store and easily made my way up to the front to snap a few photos before settling a bit further back among the bins of vinyl.  Playing in support of his most recent release (an album of re-imagined and rearranged Soul Coughing classics), Doughty surprised me by peppering his set with some of his most well known solo songs.  After opening the set with El Oso's "Circles" Doughty alternated between Soul Coughing tunes like "Super Bon Bon" and "St. Louise Is Listening" and tracks from his solo records Golden Delicious and Haughty Melodic like "27 Jennifers," "Looking At The World From The Bottom Of A Well and "I Hear The Bells."
On stage Doughty seemed relaxed and at ease as he delivered sparse, often open-tuned, acoustic arrangements of these incredibly catchy songs.  Around the room, the crowd of 50 or so tapped their toes, mouthed lyrics and smiled just slightly as he broke into "Janine" and "True Dreams of Witchita" as if remembering favorite moments from their days in the 90's spent with Soul Coughing records.
Though it only lasted 30 minutes, the ten song set showcased Doughty then and now and satisfied this fan for the time being.
Setlist: Circles, 27 Jennifers, Super Bon Bon, Looking At The World From The Bottom of A Well, St Louise Is Listening, Put It Down, Janine, Nectarine, True Dreams of Wichita, I Hear The Bells
Music has always been a part of my life. It probably all started listening to old Grateful Dead, Peter Paul & Mary, and Simon & Garfunkel records that my parents had, but it wasn't long before they were taking me to concerts like Starship, Crosby, Stills & Nash, and Huey Lewis & The News. I got the bug to write about music after reviewing an Eric Clapton concert for a creative writing project in high school but didn't really take it up seriously until 2002. Since then I have published countless articles in The Marquee Magazine and done some work for Jambase.com, SPIN Magazine, and various other outlets. I started Listen Up Denver! as a way to share the music information that is constantly spilling out of my head with people who care. Please enjoy!