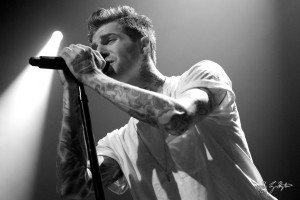 Photos by Ty Hyten
The Scene: The sold-out Ogden Theatre was packed to the gills as I arrived shortly before California indie-electro-hop-hop group The Neighbourhood took the stage last Friday night. The crowd was almost overwhelmingly teenagers. Dark eye shadow, black shirts, and unpredictably placed piercings were common sights in the strobe flashes throughout the dark and danceable set.
The Neighbourhood: In an eruption of shrill screams, tattooed twenty-two year old frontman Jesse Rutherford ran out on stage. The one time actor stirred the sweaty sea of X'ed hands with his smooth vocals and high energy pacing. The dark sounding Pop was accompanied by a heavy pounding of bass and snare that gave the music a club pulse. The band, who wishes only to be photographed in black & white, were also accompanied by a light show of only white beams and strobes. It's a part of their constructed image, and it is actually quite fitting. Rutherford's voice reminded me a good deal of Hip-Hop/R&B singer Mike Posner, especially during their cover medley featuring JT's "Cry Me A River" & TLC's "Say My Name."
Not surprisingly, the one album band played a relatively short but high energy thirteen song set. Despite my familiarity with all of the songs, I wasn't able to really get into the music the way most of the crowd did. This was no result of the bands' performance, just a simple difference in taste. I often find myself really enjoying bands live even if I'm not the biggest fan of their albums, but with the absence of notable musicianship it made it hard. The night came to an end with their mega-hit "Sweater Weather" and "Afraid." I'll admit it, they're both awfully infectious songs and were a good end to what was a so-so night.
Energy: A
Musicianship: B-
Sound: B+
Stage Presence: B
Set/Light Show: B
Overall: B