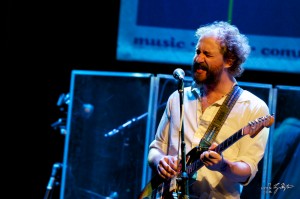 The Scene: The intimate eTown Hall was filled with those abreast of the Indie Folk scene last Monday night for a daringly intimate performance from British singer-songwriter Laura Marling and Indie Rock act Phosphorescent. The two-hundred seat eTown Hall is one of the most intimate venues in Colorado, and regularly draws artists capable of selling out venues several times its size for the recording of the weekly eTown radio broadcast. Monday night's concert was one of the most intimate shows I've attended at the venue. The crowd sat so remarkably silent that the delicate voices of both performers arrived at our ears as though we were alone with the artist in a room.
Laura Marling: 2013 has been yet another remarkable year for the young yet incredibly gifted Laura Marling. With the release of arguably her best album, Once I Was An Eagle, Marling has taken a spot amongst some of the best in her trade. Laura played alone Monday night, just her voice and an open-tuned guitar to carry her introspective poetry. Much like the music of The Tallest Man on Earth, there is far more power in her lone voice and guitar than any band could add. Laura began with an "I Was An Eagle" that was so haunting and naked that it glued 200 mouths tightly shut for the rest of the evening. The connection Laura creates during her live performance is nearly unexplainable. It just felt authentic. Marling shared two gorgeous, unreleased songs, "Bleed Me Dry," and "Born To Love" presumably from her next release. She also played "Once," "Pray For Me," and a cover of Townes Van Zandt's "Colorado Girl" that she assured us was not just a gimmick to adulate us.
eTown is not only a radio recording and live performance, but also an opportunity to hear both artists interviewed. Host Nick Forster has a knack for loosening artists up with casual conversation but there are times when introverted folk singers (interviews with The Tallest Man On Earth, Ray Lamontagne, & Gregory Alan Isakov come to mind) are so withdrawn that conversation feels labored. This was somewhat of the case Monday night with Laura Marling. Nick and Laura discussed her growing up in her father's studio, her upbringing in England, and about recording Once I Was An Eagle with producer Ethan Johns. She also shared that she wished she was a better writer – a notion that seems a little absurd. Laura spoke very quietly and seemed a bit on edge. The full interview as well as the performance can be heard when the show airs in a few weeks time.
Between artists the E-chievement award was given to Carol Parker. Carol founded the Pamoja Project which assists families in Tanzania dealing with HIV/AIDS with economic, educational, health-related, and social support. Please visit the website for more information.
Phosphorescent: Phosphorescent is the various manifestations of the music of Matthew Houck. The Brooklyn – by way of Georgia – musician plays almost everything on his albums but often tours with a full band. Monday night Matthew arrived with just himself and a key player. Even though he played with an electric guitar, Houck's sound was nearly as sparse and gentle as Laura's. If Laura's voice was gold, Houck's was tin foil – and I don't mean that negatively. His unique warbling whine is rough around the edges and raw. It is one of my favorite things about his style of Country inflected Indie Rock. It may make a vocal teacher cringe, but think of all the greats that fall into that category. He played a stripped down "A New Anhedonia," "Terror In The Canyons," and "Muchacho's Tune." On the song "Wolves" Houck built up fifteen or twenty layers of vocals to create a chorus of moans and howls – by no means a new trick, but always welcome when done well. He ended his set with the beautifully infectious "Song For Zula" with help from the eTones house band, complete with Nick Forster on lap steel.
During an interview that was a bit less labored, Matthew discussed his roots through Alabama, Georgia, & New York, making his albums alone and touring with a seven piece band, and his upcoming trip to Europe.
Traditionally each eTown taping comes to a close with both artists, The eTones, and the hosts collaborating on a cover. Nick introduced this last song by acknowledging the recently passed legend, Lou Reed. He shared the story of how he had become an ordained minister online in an attempt to sway the City on regulations surrounding the repurposing of the old church eTown resides in. Then one day he was contacted through a friend to officiate a wedding for some people visiting Boulder. Those people turned out to be Lou Reed and Laurie Anderson. Nick agreed and saw over their nuptials.  While Lou was in town, he visited Nick's house to borrow a guitar. Lou joked about his aversion to Nick's old guitars but took a liking to Nick's Gibson Les Paul. Nick wore that gold Les Paul to close out Monday evening with a cover of Lou Reed's "Perfect Day" with the help of Helen, The eTones, and Phosphorescent but sadly, no Laura Marling. Laura's absence was a disappointment,  but the rest of the gang played us out  with an excellent tribute, ending another outstanding recording of the eTown radio broadcast. You can catch the entire recording  soon on stations across the country, find your station here.
Laura Marling
Energy: A
Musicianship: A
Sound: A+
Stage Presence: A
Set/Light Show: B
Overall: A
Phosphorescent
Energy: A
Musicianship: A-
Sound: A+
Stage Presence: B
Set/Light Show: B
Overall: A