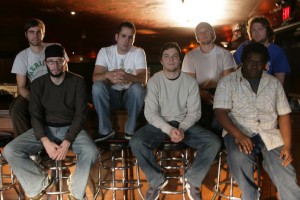 The Scene: This farewell show was so significant that it needed to be held at one of the most high profile venues in town. Streetlight Manifesto labeled this tour "The End of the Beginning," the band is not necessarily breaking up, but will no longer tour regularly, perhaps not at all, and members will be pursuing other musical outlets. The Ogden Theatre was a wonderful choice of venue for the special event; it is pleasing to both the eyes and the ears, with heavy stage curtains, an actual light system, multiple levels complete with bars, balconies, a VIP section, and a remarkable sound system.
The crowd was comprised mainly of conservatively dressed folks but was littered with a few patch-wearing punks and some half-hearted costumes. Four guys came together dressed as the group LMFAO wearing gold spandex outfits. One of the costumed men casually said they had just thrown the costumes together last minute. When questioned about the probability of all the men randomly owning the same skin-tight gold outfit, he did admit they had purchased the outfits from a costume shop. The concert was held on Halloween Eve, and some people dressed up for the event. Some boys wore wigs, more than a few girls wore skimpy outfits, and quite a few people painted their faces. Two memorable girls painted sugar skulls (Mexican Day of the Dead folk art) on their faces, and one couple went all out, with green faces painted with stitches onto them: they were a "Frank-en-Couple."
Opener: Mike Park. Mike Park has a very unusual style of performing. Park hails from San Jose, California, and his former musical ventures include Skankin' Pickle (vocals, saxophone), The Chinkees (vocals, guitar), and the Bruce Lee Band (vocals). Park also started the label Asian Man Records, and now does a solo song/storytelling act and is hailed as a "progressive activist." He played a short musical set sprinkled with a few stories. Highlights included "I'm in Love with a Girl Named Spike" (Skankin' Pickle) and "Don't Sit Next to Me Just Because I'm Asian" (Bruce Lee Band). Interestingly, Park played a song from Smile, a children's album he released with The Chinkees. The crowd was very receptive to Park, despite his uncommon style of music, and Park knew how to work them, later jumping into the crowd before his set was over.
Opener: Dan Potthast.  Dan Potthast currently resides in Santa Cruz, California, but he is best known for starting the Third-Wave Ska band MU330 in his hometown of St. Loius, Missouri. Most of the band's albums were released on Park's label, Asian Man Records. Potthast's style of Acoustic Ska fit well sandwiched between the two other acts, and his humorous songs had audience members chuckling. During his set Potthast asked, "Have you guys been working out?" After some answers were yelled out, Potthast replied, "Me neither."
Potthast's songs were socially conscious; he hit on topics like racism with "KKK Highway," a MU330 song about racists who adopted a highway close to his mother's house, and language that is offensive to gays with the track "Don't Say Gay." Potthast has an album, Around The World, with songs about specific towns or his journey to that specific town, and he likes to write one about every town he plays in, sometimes more than one. Potthast claimed that he made up "Denver" that night in between Parks' and his sets. In "Denver" Potthast described getting pulled over by a cop who was the first person to ever ask him if there were bodies in his suitcases.
Streetlight Manifesto: Reviews of Streetlight Manifesto's performance on Wednesday were mixed; most people polled gave the show an average rating: not the best performance by the band, but not the worst. The band brought a great stage presence and energy to the venue and played their set flawlessly. The Ogden has a phenomenal sound system, and seeing a Punk or Ska show there is satisfying because one can actually hear the lyrics sung, which is impossible at most venues. The layout of the venue is limiting however, the lowest tier (where everyone wants to be for dancing, unobstructed views, and raging in mosh pits) is small and cramped. The show was not sold-out, but was near capacity, which put hundreds of die-hard fans together in a spot that was not able to accommodate a proper mosh pit. Without this Punk-Rock staple, the show lacked enthusiasm. You can usually tell how good a Punk show is by looking at the people standing around afterwards. If they are not covered in sweat and rocking mussed hairdos, the show probably was lacking. The fans at this show were packed together so tightly that people were not able to "skank" and only a few people jumped around in the tiny spots they were allotted.
Streetlight surprisingly did not play any tracks off of their popular album Keasbey Nights, or their cover album 99 Songs of Revolution, which disappointed some fans. They did play several songs from their latest CD, The Hands That Thieve which gave some fans a chance to hear these songs for both the first and last times. Songs played from this album included "The Three of Us," "If Only For Memories," "They Broke Him Down," and "With Any Sort of Certainty." Both "Any Sort of Certainty" and "Here's To Life" have long instrumental breakdowns that could've been cut for time or ease, but thankfully were not. At one point during the show a full beer was thrown on-stage, and the show was stopped briefly to try (unsuccessfully) to find the culprit. The time wasted on this venture was equivalent to that of a song, and some fans were frustrated at the fruitlessness of this decision.
The band played effortlessly and had a good vibe; at one point lead singer Tomas Kalnoky addressed the crowd; thanking each and every one of the audience members for their appreciation of the band's music. Most of the other songs played were from the bands' third album Somewhere in the Between, including "We Will Fall Together," "Down, Down, Down to Mephisto's Café," "Would You Be Impressed," "Watch it Crash," and "Somewhere in the Between." Streetlight played a Ska cover of the song "It's a Wonderful Life," an upbeat track by the band Bandits of the Acoustic Revolution. The encore song from the band's first release Everything Goes Numb, titled "The Big Sleep," was well regarded but many fans left wishing they had seen a longer set. Since this was, perhaps, that last time Streetlight Manifesto will come to Denver, leaving the crowd wanting more was perhaps a great way for the band to go out on a high note.
Energy: B-
Musicianship: B+
Sound: A+
Stage Prescence: B
Set/Light Show: A-
Overall: B+

I have been working in the music industry for over three years as a DJ (DJ Pecas) for GreenLight Radio in Boulder since July of 2010. We are pirated on the FM dial at 97.1 FM and broadcasted online at greenlightradio.com. During the past three years I have attended countless shows and hope to continue to do so!