It is truly cosmic when two stories unfold parallel to one another; pulsing and glowing like two universes swimming side by side in this vast multi-verse we call life.  But when they touch: Bang!  A new universe is created, one in which both entities lock into a cosmic groove and never let go.  This is the relationship between the band Stir Fried and the Bianchi brothers of Quixote's and Sancho's fame.  Now, yet another music venue can be added to that list, The Donkey OT, where Stir Fried will help to kick off the Grand Opening with some special guests you may have heard of: Buddy Cage (New Riders of the Purple Sage), John Popper (Blues Traveler), Steve Kimock, and Mookie Siegel (RatDog).  Believe it or not, these shows have been fifteen years in the making and when Listen Up Denver! had a chance to chat with both Jay Bianchi of Quixote's and Johnny Markowski of Stir Fried, we found out how.
If you've been around the Quixote's music scene for the past decade or so you've probably heard of Stir Fried, even though the band has been on hiatus for a good part of that decade.  If you're like me and love to peruse the hallowed walls of Quixote's or Sancho's, you may have come across some lovely watercolor posters heralding a band called Stir Fried.  As many times as I saw the posters, often times in places of honor, I wondered, much like Butch and Sundance do: "Who are those guys?"
Stir Fried hails from the New Jersey/New York area and consists of John Markowski, songwriter, rhythm guitar, and vocals; Jan London, lead guitar; Vince Lorenzo, percussion; Joanne Lediger, vocals; Vin Warner on bass, and Jimmy "Foot" Blackford on drums; as well as the legendary Buddy Cage on pedal steel.  The band plays a self-described "blend of swamp groove, psychedelic improvisation, and hook laden visual songs."  Many of the songs are penned by Markowski; whose father, Tommy Kaye, was a legendary songwriter and producer.   Through hard work and extensive touring the band garnered the attention of fans and musicians alike.  According to Markowski "we did a lot of touring with Vassar Clements (legendary fiddler, Old & In The Way) and Buddy Cage through the mid to late 90s and early 2000s."  Stir Fried has always been a collaborative effort and in 1996 at the album release show for their self-titled debut album, Stir Fried recorded a live double CD featuring Clements and Cage as well as the Harris Brothers Horn Section.  "Stir Fried has always been a band that enjoys having special guests," says Markowski.  This is evident in the bands second studio effort Last of the Blue Diamond Miners, which features Dr. John, Bernie Worrell (P-Funk, Talking Heads), Tony Trischka (banjo), Jo Jo Herman (Widespread Panic), as well as Buddy Cage on pedal steel, who is as much a featured player as he is a permanent fixture of the band.  "We enjoy having special guests, not necessarily for the exposure although it's nice to have the exposure and play with great artists, but we also play with local musicians who aren't famous.  Either way it's nice, we get off on it.  It influences our material and our songs to hear what other people's interpretations are and where it takes us as players.  So we enjoy that."  It would take the intervention of Denver's own Jay Bianchi to stir the newest collaborative member, Steve Kimock, into the mix . . . but Bianchi's influence goes back much further.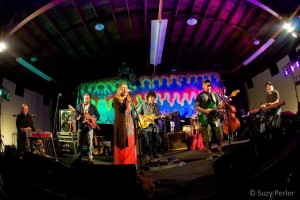 The Bianchis and Stir Fried have a long and storied past, and while their respective recollections of that past differ, their mutual friendship is not a point of contention.  "It was really weird," remembers Markowski, "we joke about this.  I say it was about fifteen years ago, Jay says it was more like thirteen years ago, and I'm thinking it was more like sixteen.  There's really a time thing going on here.  But there was a period back in the late 90s when we were trying to get gigs as an original band and we wanted to play the Wetlands in New York in its heyday.  For some reason we couldn't get a gig there.  It was tough to play Wetlands; it was at a bigger level than where we were at.  But then our percussion player read an article about Quixote's and how it was the Wetlands of the Midwest.  So we sent them our first CD."
Jay remembers it a bit differently if not glowingly: "Stir Fried is my favorite band. Jim brought us a CD and said 'hey you guys gotta check this out,' and I was like 'okay cool.'  Then I checked out the CD and I was like 'Dude! Every song on here is awesome!  With a lot of the Jamband CDs, you get the vibe of it and know they'll be cool live but this CD, the original Stir Fried one, you're like, 'This song's awesome, every song on here is awesome.'  You're just sitting there like, 'how can they do this?"  They're writing classic after classic and it felt like one of the albums you got when you were younger like AC/DC's Back In Black or Guns and Roses' Appetite For Destruction where you're like, 'every song on here is good.'  Or one of The Rolling Stones' albums, Beggars Banquet, where you're like, 'this song's good, this song's good, this song's good.'"  For Markowski, the feeling is mutual, "I'm forever grateful to Jay," he says.  Because the band couldn't afford to come out for one gig, the Bianchis booked the band for three nights and Jay helped them get a gig up in Breckenridge.  So the band got in the van and left the East Coast for Denver, playing a couple shows on the way in Indiana and Missouri, and when they got to Quixote's they received a warm welcome, "I remember knocking on the door to get in and Phil Bianchi opened the door and said, 'we've been waiting for you guys.'  I thought he meant we were late for load in so I was like, 'sorry man we had a little late start on the day,' and he was like, 'no, we've been waiting three months for you guys.'"
Stir Fried went on to sell out the Quixote's shows and it was then that Jay turned Markowski on to Steve Kimock and suggested that Stir Fried and Kimock should collaborate.  He even gave Markowski the familiar sticker that reads: "Who is Steve Kimock and why does he keep blowing my mind."  The sticker is still plastered to Markowski's guitar case.  And so began an enduring friendship, one that would have to endure the dissolving of Stir Fried.
After many hard years on the road, and with all money made being funneled into the endeavor of touring, Stir Fried, like many bands in the same situation, began to feel the fatigue.  In the mid 2000s Stir Fried went their separate ways.  Markowski joined Buddy Cage in The New Riders of the Purple Sage, where he played drums and "sang some," as he puts it.  While there is no doubt that Markowski greatly enjoyed playing with his dear friend Buddy Cage and the New Riders (he is still a member of the band), it must have been difficult for a songwriter of his caliber to join an established band with established songs on a non-melodic instrument.  Surely playing with one of the greatest pedal steel players of all time helped, but Markowski and Cage must have thought often of their old band.  So, last January when Markowski had a meeting with Jan and Vince from Stir Fried for a seemingly mundane publishing matter, it was no surprise that the former band mates fell right back in sync with one another.  "When we got together we were having a really good time.  We had dinner together and we thought it would be great if we put the original lineup of the band together and do some shows," says Markowski.  It seems that the hiatus was exactly what the band needed, because, according to Markowski, "To take the break and then get back together the appreciation for the music is there more than ever, and it feels so great to be playing all the old songs and writing new ones.  It's a lot of fun and we're excited."  After a reunion show last February, Jay Bianchi contacted Markowski, and Jay was a little hurt.
The very day after the reunion show, Bianchi called Markowski with some words only two friends would share.  "Jay called me up and was like, 'fuck you ya freak.'  I was like, 'whatdya mean?'  And he was like, 'you play out in New Jersey but you don't play here?'  And that's how we set up the shows in July."  Those shows were a part of the Summer of Serendipity concert series that Be On Key Productions put on in Civic Center Park here in Denver this past summer.  Buddy Cage and Steve Kimock joined stir Fried, and we lucky Denverites were one step closer to the epic Grand Opening of The Donkey OT.  But Bianchi, with a little help from his friends, would have to find the venue first.
So how did the Donkey OT come about?  I'll let Jay handle that one: "I think like all things that come about, at least for me, they come about kind of by mistake.  I guess I'm always looking at stuff but I'm never looking for stuff."  As cryptic as that sounds, there is always a method behind the madness.  "I talked with some other people," Bianchi continues, "who got interested and I was like 'okay it's a pretty cool location.'  It's got a great view and I felt like it was something I couldn't let pass by."  The view is spectacular as the building's East facing wall is all glass, over looking Mile High and the Denver skyline.  The building itself is sprawling, with a cavernous room for music and a separate space for New Speedway Burger.  Apart from doing some of the booking, Bianchi will release the reigns of the Donkey over to Josh Maccurdy, while New Speedway Burger will be tended by Brent and Jeff Johnson.  But will the place take?  Bianchi is cautiously optimistic, "Sometimes these things get me in trouble and sometimes they don't."
But with a stellar location and a clever name how could The Donkey OT fail?  And what about that name?  It is pronounced like Don Quixote, fitting in with the literary theme of Bianchi's other venues, which are all named after characters in Miguel De Cervantes' early novel Don Quixote.  The name also cleverly incorporates the nickname used for the Broncos, The Donkeys, and Over Time, which needs no explanation in a Bianchi bar.  The name fits the place, but it also fits Bianchi's vision for the Donkey OT.  "I think it's going to be a big event kind of place, but I also think it's going to be a community thing where there's food, there's plenty of parking.  People can come in, bring their kids, get a burger, and still get the Grateful Dead vibe in a family place.  I feel that it could be a community place, close to the light rail with some sports involved.  Something for everyone."  The Grand Opening of The Donkey OT will certainly have something for everyone with Stir Fried, Buddy Cage, Steve Kimock, and the last two pieces of the puzzle: John Popper, who Markowski has developed a friendship with over the years and keyboard player Mookie Siegel who has become a more permanent fixture of the band over the last several months.  Depending on whom you talk to, this journey may have taken thirteen, fifteen, or sixteen years, but one thing is certain.  This weekend Stir Fried and The Donkey OT will arrive with a bang.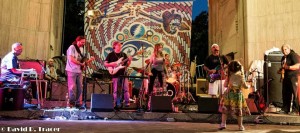 STIR FRIED
Featuring performances by:
John Popper (Blues Traveler)
Buddy Cage (New Riders of The Purple Sage)
Steve Kimock (Zero, Phil Lesh and Friends)
Mookie Siegel (David Nelson Band, Ratdog)
Donkey OT – Grand Opening!
1630 Federal Ave
Denver, CO
Nov 8th, 7PM all ages: BUY TICKETS
Nov 9th, 7PM all ages: BUY TICKETS
Quixotes
314 East 13th Ave
Denver, Colorado 80205
Nov 10th, 7PM all ages: BUY TICKETS
Nate Todd was born on the central plains of Nebraska, but grew up on the high plains of the Texas panhandle. With not much to do in either place, music was his constant companion. His parents dubbed the first two albums he ever owned onto a tape for him. Side A was Bert and Ernie's Sing Along. Side B was Sgt. Peppers. His lifelong love affair with music started early as he practically grew up in a Rock & Roll band, with his father and uncle often taking him out on the road or into the studio with them. Nate began performing live at sixteen and hasn't looked back, having played in numerous bands from L.A. to Austin. At the age of twenty he was bitten by the writing bug, and upon moving to Denver decided to pursue a degree from Metropolitan State University where he recently graduated with a B.A. in English and a minor in Cinema Studies.