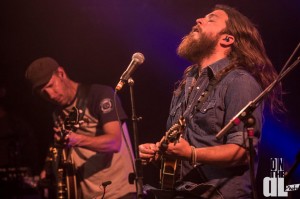 Photo by Dylan Langille
GREENSKY BLUEGRASS
w/ Fruition
Gothic Theatre
November 15 & 16
Tickets: $22 ADV $25 DoS
PURCHASE FRIDAY
PURCHASE SATURDAY
Greensky Bluegrass returns to Colorado to close their tour in a two-night run at the Gothic Theatre this weekend. The Michigan band has had eleven years to build a formidable following in Colorado having played repeatedly at the many great Bluegrass festivals across the state. Undoubtedly, their weekender will be a great time for all as the band prides themselves on knowing how to throw a good party. We caught up with mandolin player Paul Hoffman to get the scoop on their tour, the upcoming shows at the Gothic, and their new album, If Sorrows Swim, which will be coming out in early 2014.
"We are 43 shows into this tour," said Hoffman as he tried to recall his favorite moment of their Fall tour. "It's hard to pin down one show. Especially when some are so far back. The Bowery Ballroom in NYC was rad.  Austin City Limits, The Fillmore, The Fox, The Wonder Ballroom, Halloween in Seattle. The super jam show in Des Moines. They're all special for different reasons. We strive for that and as I look back I think we may have succeeded because I can't pick just one." Denver marks the "46th and 47th shows [of the tour]," says Hoffman, "that's just nuts!"
"We love Denver," he gushed. "I don't think that's any secret to our fans." He was reluctant to give up any specific spoilers on the upcoming performances at the Gothic, but he did tell us that throughout the tour the songs "Windshield" and "In Control" have been getting a great reception, and that the band has been having fun with the song "Don't Lie" from their last album–but that's about the closest thing to a hint that was liberated. He did tell us that he is also excited to enjoy some of our local breakfast fare. Apparently, he's a pretty big fan of Snooze, an A.M. Eatery: "Love it. Love it. I might go three times."
Fortunately, we did get him to divulge some info on their new album, which will be coming out in a few months. "We're excited for people to hear it. It was recorded before our spring tour and we've been mixing and preparing it all year. Simply put, it's more Greensky. Every album we make feels like the 'next step' for me. Granted, I don't have a very objective perspective. It might be a little less dark than Handguns."
When it's all said and done, Hoffman says he looks forward to many things upon the band's return to Michigan. Seeing his the new paint job on his house, frying an egg in his own pan, you know, ordinary average guy stuff. What's on deck after that? They will travel to Mexico for Strings & Sol, enjoy a break for the holidays, then they'll play a NYE run in Grand Rapids, and shortly after that, the new album will be coming out. Then it's back to the grindstone for Hoffman and the rest of Greensky Bluegrass. They just keep coming back for more; they truly love performing, and what's more, they love Denver too! If you haven't had a chance to check these guys out, grab yourself a ticket quick–it's going to be a fun weekend at the Gothic.
Audiophile. Logomaniac. I must get to the show.