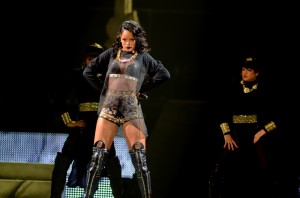 Photos by Todd Radunsky
Last Saturday, Rihanna, one of the world's biggest Pop stars, brought her massive Diamonds tour to Pepsi Center for a much anticipated performance after her scheduled 2010 date had been cancelled. The two hours show featured several costume changes and a monster setlist that included "Cockiness," "Numb," "Phresh Out The Runway" and her recent smash hits "Stay" and "Diamonds."  Though the show wasn't quite sold-out, the packed house loved every minute of it.
I work in the music industry photographing bands live and offstage for publicity. My work includes shooting concerts, festivals, and portraits of musicians and bands. I shoot for promoters, record companies, publicists, magazines, band managers, and individual musicians. I also photograph weddings, and portraits and have traveled the world to do so. I've shot weddings in Cali, Ireland, Mexico, Cape Cod, and Amsterdam to name a few.