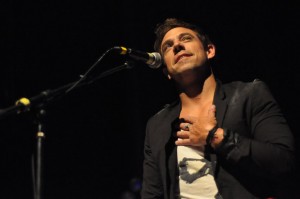 All Photos by Tim Dwenger
The Scene: It was frankly, not what I was expecting.  First of all, with all the buzz around the new record, All At Once, and the radio play, I figured the crowd at this show would be pretty young.  I was surprised to see a whole host of 30 somethings out for a night on the town, almost as if this was the first show they had been to in a while.  Second, this show had been sold out for a couple of weeks and since they shoehorned people in for the Yeasayer show the night before I figured the venue would be packed to rafters since there were still tickets at the door for that one – not so.  There was plenty of room to move around in the back and around the edges and even as you worked your way into the crowd you could maintain some personal space around you.  All it in all it was a pretty comfortable environment for a good old fashion rock show.
The Airborne Toxic Event: Just a few minutes after nine The Airborne Toxic Event came out and launched into "Numb" from their new record All At Once and it rapidly became clear that these guys were playing the room like Van Halen would play the Pepsi Center.  Guitarist Steven Chen climbed up on a speaker for a solo, bassist Noah Harmon jumped off the drum riser – ala David Lee Roth – several times, violin and keyboardist Anna Bulbrook leapt off the stage onto a sea of outstretched hands, and even the bands humble frontman Mikel Jollett got down into the crowd a couple of times for his turn at crowd surfing.  The crowd got into the action to as they sang loudly on several number throughout the set including the arena ready "Gasoline" and "Sometime Around Midnight," from their eponymous first album and the debut single from their new record, "Changing."
Throughout their two hour performance, Jollett maintained a humble persona even as he strutted around in a sweat soaked V-neck t-shirt near the end of the evening.  He thanked the crowd several times for allowing them to do what they do on a nightly basis "because without you all, there would be no us."  He even played "Duet" with Bulbrook in response to a request from a group of fans "that had driven a long long way to come to this show."  Though he stumbled over a verse to the song and had to ask the audience for guidance, he took it all in stride asking who ever was taping the song for YouTube to "please edit that part out," and then thanked the band for coming back out because he "fucks things up" without them.
One the most sincere moments of the show came when Jollett was introducing "The Kids Are Ready To Die."  After sharing a brief story about how he was doing press in Europe and all the journalists were asking if the song was anti-american, he went on to talk about how much respect he has for the men and women who defend our freedom.  While it is a sensitive political topic, Jollett toed the line like a pro and expressed his sincere feeling for the troops while condemning those who sent them to the front lines.
While the main set was full of good enough, but not really great, moments, the band kicked into high gear for the 15+ minute encore. First drummer Daren Taylor emerged and hyped up the crowd before kicking into a drum solo that quickly found all of ATE and the members of opening band Voxhall Broadcast crowded around, banging on the kit all at once for a celebration of the last night of their tour together.  Jollett then got down into the crowd to sing before returned to the stage for a medley of cover songs that included Springsteen's "I'm On Fire," Sonny Curtis' "I Fought The Law," and Cash's "Folsom Prison Blues."
It was a strong finish to a good show that delivered pretty much exactly what was expected.  Is this a good thing?  Yes and no.  I'm sure that lots of fans in the room left satisfied, but is that enough?  I like to leave a room on a night like this with my mind blown and The Airborne Toxic Event didn't do that for me.  With so many bands out there today that are pushing the limit in terms of musical and production creativity, these guys really need to step it up a bit to have me spend more time with them.
Energy: B
Sound: B
Musicianship: B-
Stage Presence: B
Set/Light Show: B
Overall: B
Music has always been a part of my life. It probably all started listening to old Grateful Dead, Peter Paul & Mary, and Simon & Garfunkel records that my parents had, but it wasn't long before they were taking me to concerts like Starship, Crosby, Stills & Nash, and Huey Lewis & The News. I got the bug to write about music after reviewing an Eric Clapton concert for a creative writing project in high school but didn't really take it up seriously until 2002. Since then I have published countless articles in The Marquee Magazine and done some work for Jambase.com, SPIN Magazine, and various other outlets. I started Listen Up Denver! as a way to share the music information that is constantly spilling out of my head with people who care. Please enjoy!