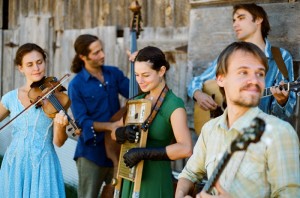 The Scene: The music of Elephant Revival evokes emotion and conjures a collective consciousness that puts the audience in a trance-like state. What they play is more than music, and when they perform it is more than a concert. The nearly sold-out crowd at The Ogden Theatre were there to welcome one of our area's most beloved bands home from tour, and there was anticipation in the air. Elephant Revival fans know they are going to get an experience, not just a show, and that experience could be classified as near spiritual. Not religious by any means, but there is a special energy that I only experience at an Elephant Revival show, and every time I see them I feel as if I "come-to" once the show is over. Well this night was no different and I felt as if I were transported somewhere else for the duration of the performance, then slowly dropped back to the balcony of The Ogden once it was over. Dramatic, precise, elegant and reminiscent of simpler times, Elephant Revival rejuvenates the soul and revives the spirit, all while creating a sound that replicates the actual feeling of living in Colorado. Well…for me anyway.
The Opener: Aoife O'Donovan's voice  has had a spell cast over me for a few years now, so the entire duration of the show I was in a state of mind best described as otherworldly. I initially was exposed to O'Donovan through her work with the classically trained progressive Bluegrass band Crooked Still, and have seen her perform simply solo as well, but tonight she was fronting a trio-and her sideman was wielding an electric guitar.
O'Donovan engaged the crowd with an "Oh Mama" sing along as her acoustic Folk style guitar sat confidently in her hands. Although some inattentive attendees were chattering throughout the set, a majority of the room was in awe. Playing select tracks from her new album Fossils, O'Donovan seemed to have a bit more Country in her step, and the electric guitar helped that step turn into a swagger. O'Donovan and her angelic voice are rooted in Folk and Americana tradition, and her subtle Country swing has brought new ears. "Beekeeper" is a track off the new album that seemed to be a crowd favorite, as was her cover of Bonnie Raitt's "Love Letter." It is great to see a larger audience pick up on what O'Donovan is putting down. She truly is one of the most emotional powerful voices out there right now. I hope song placement on shows like "True Blood," and video airplay on CMT allow her spell to be cast upon a much larger audience.
Elephant Revival: When I first walked up into the front balcony stage right, I noticed a long piece of fabric dangling from the ceiling about 4 feet from the railing we were leaning on. Having seen Elephant Revival a handful of times over the past couple of years, I knew this could only mean they would be incorporating the aerial dancers they have been working with, and it pleased me. As I mentioned before, Elephant Revival doesn't just put on a show, they provide an experience that bursts with emotional energy.
The first set started with "What's That," a track off their 2012 release "It's Alive" and then floated into "Birds and Stars." "Barefoot Friends" led to "Forgiveness" and "Truth;" "Pipers" gently approached "Sand of Now." Elephant Revival has produced  a catalog of diverse and extremely relatable songs since their first album in 2008, and "Ancient Sea" is one that has washed it's waves over me most memorably. Aerial dancers floated up and down the fabric dangling from the ceiling, gracefully interpreting the song through their movements, before the house lights brought our heads back to where our feet were planted and a short break was taken.
The second set had us "Remembering a Beginning," and we were "Willing and Able" to "Go On" this journey, again joined by aerial dancers. Barreling down the "Old Rogue River" we stopped our feet and clapped our hands along to the rowdy yet refined tune. Our paddling slowed on "Lost Creek," and our "Cosmic Pulse" took a "Drop" as the band walked off the stage. Once they returned we were revived as we witnessed four aerial dancers entwined in a "Ring Around The Moon" encore. Mood's altered and souls revived, we walked out onto cold Colfax still radiating with the warmth that was just provided.
Energy: A
Musicianship: A
Sound: A-
Stage Presence: A-
Set/Light Show: A+
Overall: A

Brian Turk grew up in the shadow of the Catskill Mountains, near Woodstock, NY. He comes from a family of music lovers, audiopliles, Dead Heads and avid concert goers.The musical magic that can only be created in the Catsklills, both past and present, is what Brian cosiders the epicenter of his music addiction. The music of The Band, and most recently The Levon Helm Band, is the soundtrack of home for him. Brian's mother took him to his first concert at 5years old...it was Johnny Cash and Roseanne Cash at Jones Beach Amphitheatre. For Brian, music is a family affair. He feels the same way about live music...we all convene to celebrate together. Brian's writing life started when he wrote his favorite author, southern fiction writer Clyde Edgerton, a fan letter at age 13. When most kids were idolizing baseball players and television, he was worshipping writers and musicians. The two became friends and Clyde shared his craft with Brian. The next year Brian attended Duke University's Young Writers Camp. This is the extent, of what Brian considers, his "formal" training in writing. From then on his goal was to capture snapshots of life through words. Brian has been involved with live music in various facets over the years, and combined with his enthusiasm and love for Denver's music scene, he creates a vivid description of what he sees and hears. If you see him out at a show, dancing with a notebook in hand, say hello.