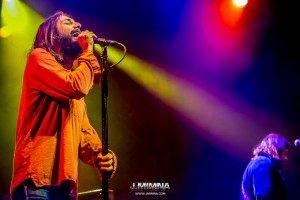 Photos by Jim Mimna

The Scene: Any time the line to enter The Ogden stretches down Colfax and around the corner onto Odgen Street you know you have a crowd eager to see one of their favorite bands.   This was certainly the case last Wednesday night as a dedicated and seasoned crowd showed up early on a beautiful fall evening.   As the veteran crowd filed into the theater, the vibe at first was very mellow but anticipation quickly grew and became electric as we waited to see one of America's greatest Rock and Roll bands.     After almost 2 hrs of waiting (The Crowes didn't hit the stage until just past 10p) the crowd was ready to let loose and that is exactly what happened.
The Black Crowes: It's very easy to forget that The Black Crowes have sold over 30 million albums in their 25-plus year career and at one point were one of the biggest American Rock bands in the world.    Now-a-days the years of immense commercial success and recognition may be behind them but you wouldn't know it by watching them perform live.   Right out of the gate it was obvious this was a night for diehard Crowes lovers as they opened the show with two  fan favorites "Under A Mountain" and "Nebakanezer" followed by a few rare, deep cuts in "Cypress Tree" and "No Use Lying."
The first thing that jumps off the stage when you see The Black Crowes live is how insanely entertaining it is to watch lead singer Chris Robinson bounce around and work the room.   Robinson is perhaps the last great Rock and Roll front man cut from that classic, Mick Jagger, Robert Plant, Steven Tyler mold and the energy he brings is undeniable.  This is something that has almost disappeared from most bands, which is a shame as it is impossible to take your eyes off him. Even when he shuffles to the background as his band mates drive the instrumental portion of songs, Robinson still brings an energy unique to that front man persona.   This is not to say he is all style and no substance; Robinson is armed with one of the most soulful voices around and is the signature sound that drives the band.   "Good Evening Mile High Mother Fuckers" summed things up pretty well and it was obvious that he and the rest of the band were excited to be in Denver.
The other thing on stage that is hard to miss is the addition of guitar player and vocalist Jackie Greene.   Over the years the Crowes have gone through guitar players like Spinal Tap goes through drummers and Greene is the latest in the line of guitar players to work with the band. From the get go it was obvious he is a great fit.  What makes him work so well is his versatility.  Green is equally comfortable finger picking in the background while layering beautiful vocal harmonies as he is stepping up and filling those guitar hero, rock god shoes to rip an epic solo.  This was especially obvious on "Nonfiction" as Greene and Rich Robinson traded swirling licks creating a Psychedelic wall of sound that showed why anyone who labels The Crowes as a pure Southern Rock band doesn't know what they are talking about.
The band kept with the dark feel as Robinson dedicated another rarity, "No Use in Lying,"  to "all the young lovers" in the room then took a breather as brother Rich took the lead for The Kinks cover "Powerman."  Bringing it back down to earth the band slowed things with "Ballad in Urgency" before ramping up and seguing beautifully, and again quite psychedelically, into "Wiser Time."  "Wiser Time" showcased The Crowes ability to jam as keyboard player Adam MacDougall brought an almost Reggae vibe, grooving on his B3, Wulitzer, then delivering some nasty Clavinet before giving way to yet another monster Jackie Greene solo. Not to be out done, Rich Robinson brought some dirty wah work, elevating things to one last peak that had the whole room shaking. This was arguably the highlight of the night.
"Welcome To The Good Times" gave everyone a much needed exhale and a chance to sing along with the band (as cheesy as they can be its tough not to love and get caught up in these moments).  Those good times continued as the band went acoustic for "Whoa Mule."  This highlighted one of the things that truly set The Crowes apart from a lot of their contemporaries, their ability to melt a room with beautiful harmonies.   While it's very easy to see and appreciate guitar heroics and the rest of the more flamboyant Rock and Roll clichés, hearing a rock band hit these kinds of harmonies brings another level of substance to the music that is rare these days.  We've all had those moments when a harmony hits you the right way and you get a wash of sound that warms your whole body. On "Whoa Mule," that feeling permeated the entire room.
As the 100 minute set drew to a close, Chris Robinson became the umpteenth consecutive performer in Denver to reference Amendment 64 saying something about CO people living free and jealous people in Ohio and even California as the band ripped into fan favorite and one time megahit "Remedy."  Congrats Chris, The Denver Chamber of Commerce  has your prize in the mail.  Keeping with The Crowes classics theme, the set ended with a raucous version of the tune that the band on the map,  their cover of Otis Redding's "Hard to Handle."  Not to be that band that simply goes through the motions with their big "hit" from 20 something years ago,  they segued, seemingly out of nowhere, into the Deep Purple classic  "Hush" before reprising "Hard to Handle" and thanking the crowd for a great night.   Coming out to rousing applause the night wound down with "Feathers" then a perfectly placed cover of Little Feat's "Willin'" and those melting, warm bodied feelings came back one more time before the full house poured back out onto Colfax.
The Crowes have not been without turmoil over the years (if you have never seen their "Behind the Music" I sincerely suggest you do so as it is one of the best ever made) but it looks like they have come out the other side of all the drug use, lawsuits, Hollywood divorces, and all that other nonsense and have settled into doing what they do best.  They may be the last great band cut from that classic  mold that makes up so much of what we love about Rock and Roll.  Either way there is no doubt they are one of the greatest American Rock and Roll bands of the last 25 years.   For me, it's comforting knowing they are still around, rocking out, better than ever.
Energy: A
Musicianship: A
Sound: B
Stage Presence A+
Set/Light Show: B-
Overall: A
Gary is a lifelong music fan raised in Chicago. He is the "G" of J2G Live, a Denver based music production company that brings you "Dance Party Time Machine," "Revenge of the 90's" among other great events.