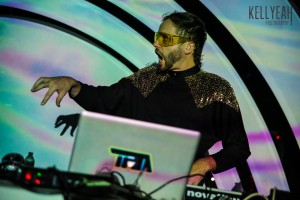 Photos by Kelly Hueseman
The Scene: Denver residents in the Five Points neighborhood were most likely confused as to why so many adults were cruising the streets in pajamas and one-piece costumes a week removed from Halloween.  The magnetic and steadily growing force of dance music known as The Polish Ambassador was rolling through town.  He brings with him a devoted following willing to let their hair, and fashion senses, down for an evening.  When Polish performs on stage, he dons an electric blue and yellow one-piece ski jumpsuit he found at a thrift store and he fittingly titled his current tour "Get Funky in Your One-Piece."  The night was chilly, but the onesies kept the crowd waiting in line at the door warm enough to withstand the elements long enough to make it inside Cervantes', where the temperature immediately ramped up at least forty degrees.
Opener: Wildlight. David Sugalski, better known to music fans as The Polish Ambassador or Ample Mammal seems to constantly be looking for different avenues to create and spread the music he is so passionate about.  Wildlight, his side project duo with singer Ayla Nereo is the newly formed version of this vision and pairs some of The Polish beats and innovative instrumental usage with her soaring vocals.  They recently released their first album, Hers Was as Thunder, which can be downloaded on the Jumpsuit Records website free of charge.  Given the immediate positive response they received from the record, Sugalski decided to add a performance for the two of them to set the stage throughout his current tour.
Sugalski acts as DJ providing the organic and nature influenced backbeats including world rhythm instruments and sounds as simple as a drop of water in a bucket.  Nereo is the star of this show, smiling brightly throughout the set and using a loop pedal to sing harmony with herself.  The bass came through thick and beautifully but did not interfere with Nereo's inspiring lyrical poetry touching on love, heartbreak and introspection.  I had the pleasure of seeing Nereo perform a small solo acoustic set in Boulder earlier in the week which was a treasure all it's own, but the chemistry between her and Polish on stage was palpable and gave the crowd just the right dosage of feminine and masculine before the Ambassador came back out to spin the room into a bouncing, dancing frenzy.
The Polish Ambassador: After seeing Polish play a headlining set at this year's Sonic Bloom festival in Georgetown I have listened to the majority of his discography and knew that another experience was in order.  Collecting the entirety of an artist's music after a set of a little over an hour may seem a bit fanatic, but the Ambassador's philosophy of distributing all of his music in the form of "name your price" downloads on his own website makes that an easy endeavor.
In the age of DJs becoming rock star popular and taking themselves very seriously on stage, The Polish Ambassador's presence is a welcome one in the EDM scene.  His jovial jumpsuit and hilarious on-stage dance moves swiftly persuaded the room to let go of any pretension and submit to the funk.  Another welcome diversion from the one-man stage performances commonly seen in dance venues is that Polish has his visual designer/performer Liminus on the stage to share in the joy and the spotlight.  Sporting a similar jumpsuit and distinct creative passion all his own, Liminus provided the crowd with bright and complex visuals throughout the set on their new screen display he likes to call "the arches".  Five layers deep and creating what looks like a small concave amphitheater, he uses a Macbook and a controller on stage to manipulate the projector blasting the duo from the back of the room.
The set list was vast and covered genres from Glitch-Hop to Dub to Funk and showcased the unique ability of a creatively inclined musician that can't necessarily be pigeonholed into one given sound.  Polish uses a Novation Zero controller to run Ableton Live, which provides him the opportunity to run up to 8 separate tracks at once and seamlessly transition from one tune into the next.  The subtlety and gentle nature of his live sets keep the room in a steady dance flow and remove the build and release often associated with current bass music dance parties.
Polish has pumped out a number of albums in recent years.  His own creations such as "Quantam Peeps," "Interdimensional Lounge Music" and "Space Leaf Dub" were highlights of the evening showcasing his ability to pump out original material at a torrid pace.  For a newcomer to his music, the remixes of classic Hip-Hop like Nate Dogg and Warren G's "Regulate" and Jurrasic 5's "What's Golden" give more mainstream introductions into his complex layering of Glitch sounds and steady Funk beats.
The Polish Ambassador and Liminus are an infectious duo to see in person, infusing the crowd with their personal love and enthusiasm for the work they obviously feel grateful to share.  Their steady rise through the festival circuit and now selling out three nights in a row in Colorado are early signs of their success that should only continue in the years to come.  If you're willing and able to break out your mother's 1980's ski jumpsuit for a night and let loose on the dance floor, don't miss these guys the next time they bounce through town.
Energy: A
Musicianship: B+
Sound: B
Stage Presence: A
Set/Light Show: B+
Overall: B+