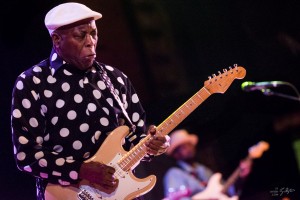 Photos by Ty Hyten
The Scene: A line of casually dressed baby boomers wrapped around the corner of 14th & Spruce last week in anticipation of Blues legend Buddy Guy at a near capacity Boulder Theater. It was Buddy's second Colorado visit in three months and aside from swapping Red Rocks for salmon and turquoise walls, the show was quite a bit similar. It was night of beer drinking, gospel style audience affirmation, stories, and dirty overdriven blues.
The Opener: Tom Hambridge. Jack-of-all-trades Tom Hambridge is no stranger to the liner notes. The producer, songwriter, and musician has worked with a staggering list of musicians, including George Thorogood, Buddy Guy, Susan Tedeschi, & Lynyrd Skynyrd. His ability to turn out comfortable tunes in stars' later years may come from his understanding the formulas by which the classics were written as his pieces don't venture far from predictability.
Hambridge stood behind a single snare and cymbal and was accompanied by Guy's keyboard player.  It was clear through Buddy's stage banter that he greatly respects the producer, but as Hambridge rolled through his work it became clear that he lacked enough originality to ever grace the same page as Buddy in the history books. I was painfully transported to the cringeworthy moments of seeing George Thorogood at Red Rocks in August [Editor's Note: Read review here]. Hambridge's schtick driven Rock 'n Roll tunes felt like they were commissioned for a Bud Light boating party that Jimmy Buffett couldn't make. "She's my little red head, can't wait to tuck her into bed" the deft lyricist sang before touching upon such hackneyed topics as drinkin', the wife buggin' you when you wanna watch football, and a nausea inducing commercially patriotic piece called "19." As I've said before, I've always understood the place of lighthearted and fun music, but when it crosses a certain line of corny it just becomes insulting. After the thirty minute gag fest, a partially seated, partially standing crowd had filled in the theater and anticipation couldn't be higher for Buddy Guy.
Buddy Guy: Wearing his iconic black & white polka dots, the spry seventy-seven year-old Buddy Guy tore into "Damn Right, I've Got The Blues." His iconic trebly & overdriven guitar paired with his near screaming vocals put a smile on my face. The juxtaposition of Buddy's age and energy is something that creates universal joy. "I played a show in India four weeks ago and they didn't fuck it up that bad!," Buddy yelled after the crowd delivered a half-hearted "son of a gun!" during "Hoochie Coochie Man." This tipped me off to what I had already assumed, Buddy has a pretty standard collection of stage banter. He had said the same line at Red Rocks, and proceeded to deliver a nearly word-for-word performance at Boulder Theater. I understand just as a comedian plays the same jokes every night on tour, musicians need to do the same. I was a bit disappointed, though unreasonably. Luckily, Buddy had a whole two hours to play with on Tuesday, so along with the recycled jokes we got enough stories to write a book. Like many Blues performers Buddy injects a good amount of conversation between songs. Multiple times throughout the show Buddy stopped to talk about the dwindling existence of the Blues club, the lack of the Blues on the radio, and the need for Blues to continue on. ""It's a shame they don't play Blues on the radio no more," said Guy, "I'm gonna keep playing, I don't give a fuck if they never do." Buddy blamed the disappearance of Blues clubs on hypocritical politicians who want to ban smoking and "the DUI."  You can tell Buddy is sincere and it was great to hear him talk first hand about legendary blues "cats" like Junior Wells, Muddy Waters, & John Lee Hooker. Buddy recounted his lack of proper education growing up, and the day he realized that the players he loved didn't know how to read music. After that he said he just learned by listening and from then on people would see him on stage and say "who the fuck is that!?"
At this point, everybody who knows Blues guitar, knows who Buddy Guy is. His playing Tuesday night spanned a great dynamic range – part of what makes his style so great. He tended to start songs with a whispering of clean Blues licks that, without fail, would gain momentum and end in an absolute onslaught of screaming psychedelia with stage presence to match. At times Buddy had the squealing guitar laying atop the stage monitors as he whipped the the strings with a handkerchief. Other times he'd run the strings across the seat of his pants and even ended the night playing with his teeth. When the tornado of sound wound back down to sparsely played licks, the sound of "play it Buddy!" and "that's right!" came tumbling from inebriated fans throughout the room.  Buddy's head shook like crazy all night as he tore into the neck of his Strat and an "ahh shiiit!" was common place after he particularly agreed with something he had sang.
Favorites of the evening included ""Someone Else Is Steppin' In," Buddy's high vocal vibrato on "Fever," "Close To You,"  "She's Nineteen Years Old" and "74 Years Young."  The majority of the night was Buddy paying homage to other Blues and R&B legends, including tastes of Albert King, Cream, Marvin Gaye, and Muddy Waters. After Buddy hopped down from the stage and weaved through the entirety of the Boulder Theater, wowing fans, the night wound down fantastically with the Jimi Hendrix classic "Voodoo Child" and then two of Buddy's own: "Feels Like Rain" and "Skin Deep."  After more than two hours of music and laughter, the band played Buddy off as he blew a kiss to the adoring fans.
Energy: A+
Musicianship: A+
Sound: A+
Stage Presence: A+
Set/Light Show: C
Overall: A