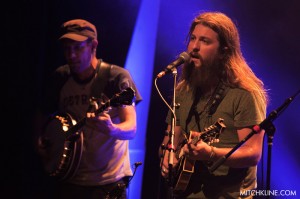 Photos by Mitch Kline 
The Scene: It's safe to say the secret is out about Greensky Bluegrass. Their days of playing small rooms is all but over, and I think everyone at the Gothic Theatre last Friday knew this might be the last time to catch this band in such an intimate venue.
Opener: Fruition. I had never heard a note of Fruition's music before Friday night, but for some reason, I felt compelled to make it to the Gothic in time for their set. I'm glad I did! The Portland Folk-Grass-Rockers played an energetic ten-song set to a nearly full room, setting just the right tone for the main event. I hope they come back soon for a headlining slot so they have time to let loose a bit more. Either way, this is a band I'll be following.
Greensky Bluegrass: It's been nearly a week since Greensky Bluegrass rolled into the Gothic to close out their massive, 40+ show fall tour and I haven't stopped thinking about that Friday night show. Sure, I see a lot of shows that stick with me for days, but there's something about a Greensky show that digs in deep, and doesn't let go.
Maybe it's the unexpected covers, like an early first set take on The Beatles' classic "Help!," seamlessly sandwiched between two Greensky originals, or the set-closing cover of Phish favorite, "Rift." It could be the mind melting jams out of Greensky originals, like an early first set "Train Junkie" or late second set "Leap Year."
With Greensky Bluegrass, it's all of those things. It's stretched out originals like "All Four." It's twelve minute takes on Bob Marley's "Small Axe." It's tight Bluegrass. It's ripping banjo rolls by Michael Bont. It's precise dobro solos by Anders Beck. It's Michael Devol holding it all together on bass. It's story telling by Paul Hoffman and Dave Bruzza that we can all relate to. And at the end of the night, it's five friends from Michigan, gathered around a single microphone, playing the music that brought them together. This is what brings me back to Greensky Bluegrass every time they're in town, and it's what makes me count the days until next time they're here.
SETLIST
Set I: No Idea, Help, Just To Lie> Train Junkie, Old Barns, Worried About The Weather, All Four, Middle Mountain Towns, Rift
Set II: Windshield, What's Left Of The Night, Lose My Way, Small Axe, Bring Out Your Dead, Leap Year, Broke Mountain Breakdown> Beat It, Broke Mountain Breakdown (reprise)
Encore: Climbing A Mountain, Tied Down, Old Home Place, And We Bid You Goodnight
Energy: A+
Musicianship: A+
Sound: A
Stage Presence: A
Set/Light Show: A
Overall: A+