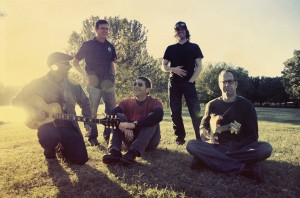 Excitement is gathering this week as moe. makes their way to Denver to kick off a two-night stand at the Ogden Theatre on Friday. The Jam/Rock band has had 30 years to build a rabid cult following–some call them "moe.rons" and some are "moe.nsters," but whatever you call them, for the last three years they have come out in droves to see the band kick off their winter tour at the Ogden Theatre. On Friday, the concert will be opened by The Magic Beans and on Saturday Technicolor Tone Factory is kicking off the show. Just weeks ago, the group was in the studio recording. With a new album, the kickoff of this segment of their tour and a European tour on the horizon we were stoked that their drummer Vinnie Amico decided to take some time to catch up with Listen Up Denver!. Amico has been playing with moe. since 1996, giving him an interesting perspective on the band's dynamic and how it has developed over time. He is well known for his on-point improvisational percussion and is regarded as a master in his own right, but after 20 years, that's not what is truly impressive about Vinnie Amico. It is his humble demeanor that is truly impressive; he is pretty much a genius, but he is down to earth and infectiously easy going.
"We like coming out there because we can do some skiing and enjoy the snow, the fans have come to expect it, we have come to expect it–it's just a good fit for everyone." Amico also will enjoy visiting with friends that live in Denver this weekend. He says that if he had 24 hours to do "whatever" in Denver he would do just that. "I like to spend time with my friends, go get some food… For me, we are on the road so much that when I get to go to a friend's house and do nothing, it helps me relax, so that's what I enjoy doing. I just want to kick back, drink a couple beers, hang out, and I am happy."
The band has come a long way in 30 years. According to Amico, the drummers that manned his post before he joined up in 1996 we more technical and he is more improv/groove focused. How have the other members changed over the years? "The songwriters have matured and the song writing has changed," says Amico. "After 20 years we can pretty much read each other's minds, musically, while on stage. Because we've played together and listened to each other for so long, we have a confidence in each other's abilities which allows us the freedom to play pretty much whatever we want onstage. We still make a setlist, but beyond that and a quick meeting before we go onstage, we don't really plan anything." One interesting thing we learned: the band members take turns writing setlists. If you have been to many moe. shows, alarm bells should be ringing–the mood can be strikingly different from one night to the next–turning from jazzy, jammy and groovy to hard and gritty Rock and Roll in a single weekend, a perplexing quality that is for utility's sake. "We like to change it up. We each rotate nights, and everyone makes their setlist differently so it works well."
Just a couple weeks ago moe. finished recording their latest album. Amico was reluctant to give many hints as to what fans can expect, but he did say that "it's going to be rocking." Tell us something we don't know, Vin. In fairness, he did tell us a bit about their process going into the studio. Having played the drums for 34 years, it's impressively simple. "I don't have much of a practice regimen. We came into the studio with  list of of songs, some we knew, and a bunch we didn't." He explains that "it's more about figuring it out when we get here and then actually putting the songs together for recording and producing."
They also will be heading across the Atlantic in the spring for the "third or fourth European tour–I can't remember." C'est la vie. He says the band particularly enjoys Germany, where they have made friends and sell out shows, but it's not as easy and fun as one might think. "We have the greatest job in the world, but I have a wife and two teenage daughters–being away from them is the hardest part, you get used to sleeping on the bus, you get used to hotel rooms, you get used to all that stuff, but you never get used to being away from your family."
Fortunately, Amico will get to squeeze in some family holiday fun before moe. heads across seas in March, and he also has a few other items in the works–one in particular is a side-project called Floodwood. The progressive Bluegrass band has some great talent in it's lineup including moe.'s guitarist Al Schnier. Their sound packs a nice punch and as a result is starting to gain national attention. "We've been out about two years now and are doing our first tour in the West. We have a week in Colorado in January, so we'll be in Denver, hopefully Boulder and Fort Collins and then we are going to get up into the ski towns." He says the band is "pretty ripping" and that he is excited to show Colorado what Floodwood is all about. No doubt, they will be well received–these guys don't need to look hard to find fans around these parts. If you don't have your ticket for the shows this weekend, time to get in line as they have sold it out the last few years, but regardless of ticket sales, it's going to be a stomping good time this weekend at the Ogden.
Audiophile. Logomaniac. I must get to the show.