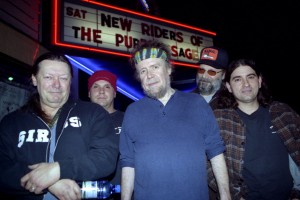 It was the heady summer of Nineteen Hundred and Sixty Nine.  Human beings were walking on the moon (both physically and mentally), there was a little gathering called Woodstock, and a young man named John Dawson was penning songs.  There are many heroes in this story but John was the first, and like all great heroes he needed a sidekick.  He found one in some guy named Jerry Garcia who I've heard tell played a pretty mean pedal steel guitar.  These two space cowboys floated in and out of watering holes and small clubs in a glittering city by the bay like Don Quixote and Sancho Panza until they were joined by another hero of our story, a young man named David Nelson; who, as legend has it, was not too shabby on the guitar himself.  Lured in by the siren songs of this mystical triumvirate came other minstrels: a tall goofy blond named Phil Lesh, a serious looking mustachioed man named Mickey Hart, a man who plucked four silver strings named Dave Torbert, and a man who soared in a magical flying machine called a Jefferson Airplane named Spencer Dryden.  Garcia, Lesh, and Hart, however, already played in a traveling group called the Grateful Dead; but no matter, the two bands would tour together.  While traveling across the northlands of Canada on a Festival Express the New Riders met the third hero in our story; a magical sage named Buddy Cage whose flying fingers flitted across silver steel strings.  Thus, a legend was born: The New Riders of the Purple Sage.
This may sound like fantasy but its not.  This was actually how NRPS was formed.  Although they would see decades of hard years on the road, numerous personnel changes, and the loss of good friends along the way including John Dawson in 2009, NRPS is still touring hard and are enthralling as always.  They show no signs of stopping and, as drummer Johnny Markowski points out, "We're going into our ninth year and this has been the longest formation of players in the band's history."  That formation goes as follows: David Nelson, Buddy Cage, Michael Falzarano (Hot Tuna) on guitar, Ronnie Penque on bass, and Johnny Markowski (Stir Fried) on drums.  After Dawson disbanded the Riders in the early nineties (Cage and Nelson had left a decade earlier) it didn't look like they would ever ride again; however, a serendipitous day at the golf course would change that.
In the summer of 2005 Cage, and Markowski were playing a round of golf at Blue Hill Golf Course in Pearl River, New York.  The two friends were talking about doing an acoustic project and were discussing whom to bring in on guitar.  When Cage suggested they bring in David Nelson, Markowski couldn't help but make the connection, "I said to Buddy, if you're gonna' play with David Nelson you should put the New Riders back together."  When Cage expressed his misgivings about whether or not anyone still wanted to see NRPS play again Markowski replied, "Okay, but if you put the New Riders back together I would buy a ticket to see that show."  That seemed to be that, and the duo played on.  Three holes later on a par three "the eighth hole" Markowski remembers distinctly, "Buddy sank his put and said, 'let's do this.  You're gonna' call Nelson tonight and get the New Riders back together.'"  A fairly daunting task.  Cage gave Markowski Nelson's number and when he called he tried to sound as enthusiastic as possible: "Hi! My name's Johnny Markowski!  I've been playin' with Buddy Cage in Stir Fried for a bunch of years and we're thinking about putting the New Riders back together again."  Here Markowski waxes comedic: "He looked at me—well he didn't look at me—he was on the phone, and he said, 'Who are you again?'"
And so they danced, but eventually Nelson agreed.  I can understand why Markowski would have been just a little nervous calling Nelson.  The man is a legend.  Besides being a founding member of NRPS, Nelson has played with everyone from the Grateful Dead to Al Rapone and the Zydeco Express, as well as fronting The David Nelson Band, which has showcased a revolving door of top-notch musicians since the mid-nineties.  With Nelson on board, Cage and Markowski began to think of other players who would be a good fit for the band.  When Cage presented the question of who would step into John Dawson's role as lead singer/rhythm guitarist, Markowski didn't even hesitate, "I said, Michael Falzarano because we all knew Michael.  He's a great, great, great rhythm guitar player, great singer, great songwriter.  So Buddy and me said 'yeah' and Buddy called Michael up."  Now all they needed was a bass player and again Markowski had someone in mind, "Ronnie Penque was playin' in Stir Fried with me and I'd played in the JGB with him for a while.  He's a great bass player from my hometown who also plays with Ripple and The Ronnie Penque Band.  So Ronnie was a perfect fit for the New Riders because his favorite band growing up was New Riders of the Purple Sage."  The addition of Penque was fortuitous because he worked hard to get the band their first shows back together and, as Markowski adds,  "We've been on the road ever since."
The New Riders of the Purple Sage play this Saturday, December 7th at Quixote's True Blue and I recommend not missing it, but if you don't believe me maybe Johnny can convince you, "The band is sounding great right now.  We've been on the road for the past couple months and these engines are purring."  Like Johnny says, "I'd by a ticket to that."  The band also has a new album out called 17 Pine Avenue featuring songs collaboratively written by longtime Grateful Dead lyricist Robert Hunter and David Nelson as well as by Markowski, Penque, and Falzarano.  And of course the amazing Buddy Cage, god of the pedal steel.  Oh yeah Jay, Johnny says hi.
Quixote's
314 East 13th Ave
Denver, Colorado 80205
Dec 7th, 8PM – All Ages
BUY TICKETS
Nate Todd was born on the central plains of Nebraska, but grew up on the high plains of the Texas panhandle. With not much to do in either place, music was his constant companion. His parents dubbed the first two albums he ever owned onto a tape for him. Side A was Bert and Ernie's Sing Along. Side B was Sgt. Peppers. His lifelong love affair with music started early as he practically grew up in a Rock & Roll band, with his father and uncle often taking him out on the road or into the studio with them. Nate began performing live at sixteen and hasn't looked back, having played in numerous bands from L.A. to Austin. At the age of twenty he was bitten by the writing bug, and upon moving to Denver decided to pursue a degree from Metropolitan State University where he recently graduated with a B.A. in English and a minor in Cinema Studies.