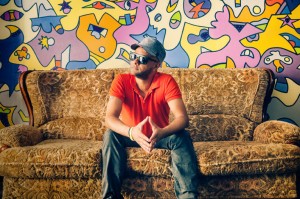 Cervantes' Masterpiece Ballroom played host to Nightmares on Wax in a Pre-Thanksgiving celebration that drew a near sold-out crowd to relive the glory days of Trip-Hop and mellow music.  Tuesday night is an ongoing extension of the weekend in Denver, and everyone from elder statesmen of the Electro scene to new fans of the group packed the ballroom on Welton. Nightmares on Wax is the work of British DJ and composer George Evelyn. Evelyn along with Keyboardist Robyn-Taylor-Firth and a collection of guest musicians helped to steer the early dawn of live electronic based composition and produced several classic albums throughout the 1990's including Smokers Delight (1995) and Carboot Soul (1999). Although it was only George behind the decks for this show, he still brought the house down with his devious blend of Funk, Soul and Hip-Hop. The vibe in the building was deliciously chill and it only got better as the night progressed.
The newest Nightmares album, Feeling Good, has been in steady rotation for a few months so it was awesome to hear him drop several remixes of songs from that album including "Be I Do" and the saucy high notes of "Now Is the Time." As George deftly transitioned between old songs and new, remixes and originals, it was impossible not to hearken back to the days when electronic music was more about the chill and less about full frontal rage.  There remain very few artists who can keep the tempo down and resist the urge to break character. From the funky to the soulful, Nightmares on Wax take you on an incredibly infectious journey. Although it was difficult to cull a track list from the long DJ set, there were elements of old and new throughout his performance. My ears registered bits of the raw groove from Smokers Delight, funky beats from Thought So and plenty of Carboot Soul.  It was an extremely varied performance that exceeded my expectations and had the crowd buzzing with elation afterwards.
Although a long day of work loomed ahead of me it was tough to tear myself away from the warm beats and silky voices that were pouring out of the speakers. This is one concert experience I won't forget for a long time and I hope there is some miracle that will allow me to dance at another Nightmares on Wax show in the distant future.
Energy: A
Musicianship: A-
Sound: A
Stage Presence: B+
Set/Light Show: B+
Overall: A-

I've worked various positions in the music industry with Madison House, Rock The Earth and Bohemian Nights. My dream is to travel the world and seek out all the good tunes, beer and food that make life so special. I have a healthy obsession with live music and I'm thrilled to share the epic moments with you.