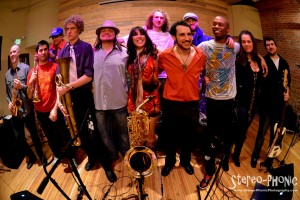 Photo by Johne Edge
Why You Should Go: Being hailed as "Denver's newest party band" is a hefty responsibility. Luckily, no task seems too great for Denver's 11-piece Afrobeat outfit, ATOMGA.  Founded in 2011, ATOMGA is already a planet-sized force taking the scene by storm. Using Afrobeat as its foundation, the band is not afraid to take chances while staying true to their authentic roots–and it's working. When ATOMGA takes the stage, it depicts organized chaos at its finest. With every performance, you get a 4-piece power-packed horn section, a steadfast percussion trifecta, a deep-grooving rhythm section, and solid, engaging vocals. Every show turns into a booty-shaking dance party that leaves audiences exhausted from moving, but still craving more.
Venue: Park House 1515 Madison Avenue Denver, CO 80206 303-321-0585
Doors: Show starts at 9:00 pm
*Price: FREE!
*All prices are gathered from other sources and we are not responsible for mistakes or inconsistencies. They are intended only as guidelines. Please, always call the venue if you desire the most accurate information possible.