Below is a feature that I wrote for The Marquee Magazine back in 2008.  Bootsy Collins is returning to the Front Range Monday to bring the funk to The Boulder Theater.  It should be great fun to catch this master of funk so read a little about how the history of one of the funkiest bassists in the business, and then go check out the show.  It should be one hell of an evening!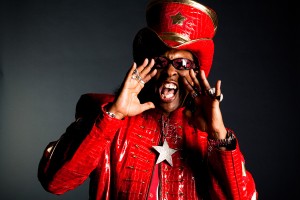 Bootzilla to some, Casper the Funky Ghost to others, funk bassist Bootsy Collins is known for outrageous outfits, psychedelic, booty shaking jams, and an outrageous sense of humor. What many don't know is that Bootsy Collins is a critical link between the Soul and R&B of the 60's and the wild Funk music that came to be so closely associated with the 70's.
Collins foray into the unpredictable world of funk started when he was about 15 years old living in his native Cincinnati, Ohio. Collins and his brother Catfish had founded a band they called The Pacesetters and with their furious energy and youthful exuberance the band had gotten noticed by producers such as Charles Spurling and Henry Glover who began to book the band for recording sessions with some of the biggest stars of the day. "We became the session band at King Records because we were the new, exciting, electric, and energetic, rhythm section that had this rhythm going on that nobody could touch," said Collins in an interview with us from his home in Cincinnati.
It wasn't long before King Recording artist James Brown took notice of the sound The Pacesetters had going on and when he was in Cincinnati working on "Licking Stick" he called Collins in to lay down a bass line when his band was at lunch. While they never got to put the part to tape, the session turned out to serve as an audition of sorts.
In early 1970, when Brown's backing band walked out after a pay dispute Collins got the call that he never dreamed was coming. "When that happened James was like bang, 'I need Bootsy now, call him up, get on a plane and go get him,'" said Collins. "Bobby Byrd came to Cincinnati and picked us up in the Lear Jet and we flew to Columbus Georgia. The next thing you know, we on the set with James Brown! It was like, no, this is unbelievable man, you can't tell nobody this, ain't nobody gonna believe this!"
It was baptism by fire as the band was forced to take the stage with no rehearsal and just like that The J.B.'s were born. Though this line-up of The J.B.'s only backed up James Brown for 11 months before moving on, Collins was quickly schooled in performing and touring as a big time musician. One of the most memorable moments of his time with Brown was "when he told me about the one, and how he told me. I can still remember his exact voice and everything," said Collins.
"He said 'son, you're playing a whole lot of thangs. I like all them thangs you are playing, but you ain't playing on the one.' I said, 'on the one, what you mean, on the one?' 'Look here son, you gotta do everything on the one. Give me the one, play all them thangs you playing, and just give me the one and you my man, you my man.'" It was that speech that pushed Collin's to another level of playing and led to two of James Brown's top 20 hits, "Sex Machine" and "Super Bad," both of which featured The "Original" J.B.'s (as opposed to other line-ups that followed under the same name).
Brown's "on the one" lesson has stuck with Collins for his entire career as a musician and formed the backbone for the psychedelic funk that defined the genre in the 70's. After parting ways with Brown, Collins and his brother moved to Detroit and hooked up with George Clinton and the Parliament-Funkadelic family.
When Collins joined Clinton's groups he brought with him everything that his year on the road with James Brown had taught him, but most importantly, he brought with him Brown's "one the one" idea. "People think that Parliament-Funkadelic were the originators of the 'one the one' concept, but the truth is that I took that from James and brought it to Parliament-Funkadelic," said Collins. "Everybody rants and raves about what we did as Parliament-Funkadelic but it was really James Brown's idea."

Music has always been a part of my life. It probably all started listening to old Grateful Dead, Peter Paul & Mary, and Simon & Garfunkel records that my parents had, but it wasn't long before they were taking me to concerts like Starship, Crosby, Stills & Nash, and Huey Lewis & The News. I got the bug to write about music after reviewing an Eric Clapton concert for a creative writing project in high school but didn't really take it up seriously until 2002. Since then I have published countless articles in The Marquee Magazine and done some work for Jambase.com, SPIN Magazine, and various other outlets. I started Listen Up Denver! as a way to share the music information that is constantly spilling out of my head with people who care. Please enjoy!