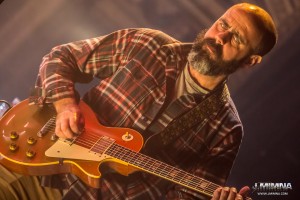 Photos by Jim Mimna
The Scene: As the temperatures dropped last Friday night in Denver, people packed into the Ogden Theatre to see the Progressive Rock band moe. kick off their winter tour. Upon entry, one could not be overwhelmed by the incandescent energy beaming from the crowd–it was more than warming–it was hot, almost tropical. Thinking about the sub-zero temperatures that lay beyond the front doors seemed laughable after being inside only a short while. People stuffed their big jackets in corners and behind trash cans, went to the bar and grabbed a drink–or five. It was a happily drunk crowd, the kind of contented stupor one attains while slurping bevs on a beach on a hot summer day. The smoke in the air might also have had an effect on the chill factor. Smiles swarmed the crowd as old friends reunited and new friends were made–it's nice to be among decent people when you are in a shoulder-to-shoulder crowd.
The Opener: The Magic Beans didn't have to do much to get the already packed Ogden moving, so they put on a great show all on their own. The  Dance/Electro-Acoustic Fusion group out of Nederland has been stirring locals' excitement for the last couple years with their special brand of Space Funk. The secret ingredient? Perhaps a dash of Bluegrass? Surely they would be reluctant to share their recipe, but let's just say this ColoRADo band does a great job of blending many different genres, and on Friday, they complimented the mood of the crowd at the Ogden splendidly–super chill grooves punctuated with harder funk riffs, synthy keys and a wailing mandolin–a musical hot toddy on a bitterly cold night. Tasty. Warming. Amusing. But just an appetizer. We came for that fine aged Scotch on the top shelf.
moe.: The show opened with the jazzy xylophone-studded "Tubing the River Styx," the slower tempo opening of the song was accompanied by cool blue lights and darkness and then WHAM! they hit crowd upside the head with "The Pit." Showcasing the harder Rock and Roll side of moe. as the stage lit up with a rainbow of lights and strobes. From there it was straight into "Kyle's Song"–a long-time fan favorite (also dark in its own way), and just when you thought they were going to pause, they threw in a "Bearsong" just for good measure, bringing the opener-combo full-circle with this xylophone-heavy tune. They finished the first set with "Lost Along the Way," and then a "Tailspin>Timmy Tucker" duo. I guess it shouldn't be surprising that after 30 years these guys know how to please a crowd…
Set two took off with "Big World," transitioned into "Ricky Martin," and then right into Pink Floyd's "Time"–just another highlight in a night full of memorable moments, but striking and unforgettable none the less. After that, they transitioned into "High and Lo," bringing more than a half-hour of continuous jam to a close. They took a moment to share some holiday tidings with their version of "Oh Hanukkah" from their 2002 album Season's Greetings From moe. At this point, the contented stupor had progressed into a frenzied blur of excitement and anticipation. In the haze of emotion we saw "McBain" move into "Down Boy," queueing grand finale. They threw down a gruff "Billy Goat," made a brief exit, and then returned with an encore performance of "Spine of a Dog."
The only disappointment from the evening was its inevitable end–not that it had ended early, but simply that it couldn't go on forever. Fortunately, fans saw another night of moe. at the Ogden the following night. From here, the band goes to San Francisco and then on to Albany, NY for New Year's Eve. If you missed the weekend of fun, head down to Cervantes' Masterpiece Ballroom on January 17-18, 2014. moe. band members Al Schnier (bass) and Vinnie Amico (drums) have a little side project called Floodwood that will be shredding some bluegrass with Assembly of Dust–if you are a moe.ron they will rock your socks off. Stay tuned for more…
Energy: A
Musicianship: A
Sound: A
Stage Presence: B+
Set/Light Show: A-
Overall: A
Audiophile. Logomaniac. I must get to the show.