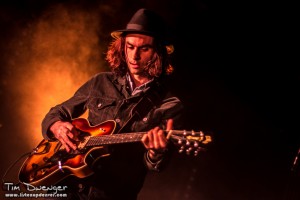 Photos by Tim Dwenger
(Photos from Thursday, December 12th)
The Scene: Playing a second sold-out show at the Ogden, The Head and the Heart's home spun energy and vitality left the band's membership in the Indie-Folk movement favorably in question. Performing a mix of old hits from their self-titled debut and new songs from Let's Be Still, TH&H's obvious love of performing–not to mention their natural aptitude for it–trumped any inclination or pause regarding the authenticity of singing about whiskey rivers and learning age-old trades. Yes, most of us won't be laying bricks, but TH&H's sentiments of heartbreak, celebration and plain fun are so convincing that one could find themselves with a yearning to whittle an iPhone case.
Opener: Ark Life. Detractors be damned anyway, as the the Ogden was already packed before local six-piece Ark Life took the stage. The band took the opportunity to stoke the crowd's anticipation as they cheerily ran through infectiously catchy numbers like "(Rock & Roll Got) The Best of Me" and "Very Fine Friends." Self described as "Mile High Western Soul Rock and Roll," the band had a relaxed groove fed by the soulful vocals of Lindsay Giles, Anna Morsett, and Natalie Tate to front man Jesse Elliott's gritty yet mischievous style. Ark Life sounds so smooth it's hard to believe that they haven't been around Denver for years. The audience, comprising a hearty mix of urban creatives, hula hoop amateurs, craft brewery wannabes, and a lot of girls' night out, were soon dancing along, pausing only for a moment to oblige Elliott's request to wave for a picture to send to his mom back in Minneapolis.
The Head and the Heart: Cheekily playing Justin Timberlake's "Mirrors" while coming out to the stage, the Seattle six-piece band immediately launched into "Shake" off their new album, Let's Be Still, with the crowd immediately clapping in time. "Shake" is representative of the band's departure from its open-mic roots, with a more driving, expansive sound and prominent electric guitar. Backed by vertical rows of lights, the band's new songs off Let's Be Still and some of the more Pop sounding favorites, such as "Summertime" and "Ghosts" are noticeably stronger live than some of the more popular Folk-like tracks from the first album. That may be a controversial statement, given that most were clearly there to hear "Rivers and Roads" and "Lost in My Mind" (and later, "Down in the Valley"), as evidenced by the very loud sing-alongs to these tracks. Regardless, there is no question that TH&H have acquired their popularity in large part from their infectious chemistry that is the byproduct of their extensive experience performing live.
Singers/guitarists Jonathan Russell and Josiah Johnson are apparently best friends, and it becomes obvious that the pair are more complementary than similar. Russell, appearing clean shaven and in a vest, but with a chin-length shag, has a more breathy and raucous vibe and voice that perfectly conveyed the disillusionment of "Another Story" and the weariness of "10,000 Weight in Gold." Johnson, on the other hand, has a more straightforward and steady voice to accompany his flannel, which gives off an unexpected tenderness when heard live, especially on "Josh McBride" and in combination with tambourine on personal favorite, "Coeur D'Alene." Violinist, Charity Rose Thielen, with her perfectly tousled hair, provided gorgeous melodrama and vulnerability to "Cruel" and "Let's Be Still."
As the set ended on "Rivers and Roads," we were left exhausted by the vast emotional ground TH&H covered, between Russell's moment to reflect on the Arapahoe High School shooting and an audience member's marriage proposal. As if sensing this, the band returned to have Thielen change it up with the synth-heavy and perky "Springtime" and "Summertime," before the band returned to the anthemic "Gone." And as if to seal our relationship with TH&H, the night ended with "Down in the Valley," which now plays as a loving look back on when we first met the band. With the crowd wooing along, TH&H affirmed the adage that what we say can matter less than what we feel.
Energy: A+
Musicianship: B+
Sound: A-
Stage Presence: B+
Set/Light Show: B
Overall: A-
Patty is a Washington State native that was lured to Colorado by the sun and the mountains. When not listening to music, there is a pretty good chance she can be found eating ice cream.