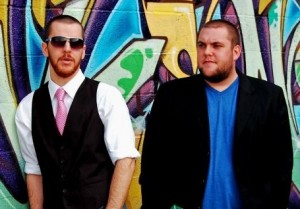 The Scene: The double of The Floozies and Manic Focus at the Bluebird Theater last Friday night led to a sold out show thanks to some last minute promoting by the GRiZ family. There were few in the audience that had 21+ wristbands, which isn't strange for these wompadelic shows. We all know that EDM is the outlet for the Y generation; however this show brought even the youngest of the Z generation crawling to the front of the stage. Flat brimmed hats and glittered eyes were the staple of this evening's attire.
Manic Focus: John McCarten, aka "JMac" aka Manic Focus, hails from the Twin Cities and spent some time in Chicago honing his beat making and sample mixing skills. His on-stage presence is like many other DJs' that dance behind their equipment: throwing down peace signs at their mixers and pointing at their distortion pedals like they are brothas from anotha motha. But you're not supposed to take these performances too seriously; their shows center around light shows and dance parties. This dance party was particularly entertaining because of the 90s and early 2000s. McCarten's didn't disappoint. "Zeleke's Magic Bass," the Outkast-clad "F'Real," and "That Thang" sprinkled with Missy Elliott samples. One of my favorites from this performance was his remix of Bill Withers' "Use Me." This could be because it was fun to dance to, or simply because I freaking love Bill Withers. I'd bet on the latter.
The Floozies: The brothers from Lawrence, KS remind me of a mix between Infected Mushroom and Pretty Lights: murky elements of heavy bass remixing hip hop, funk, and soul. It seemed as if the Hill brothers, Matt (guitarist/producer) and Mark (drummer), could have taken the show to some really dark places if they wanted to. Or maybe that's just how my soul felt after seeing that we were the oldest humans in the whole venue. I mean, even the bouncers looked like scrawny high school sophomores.
The Floozies strummed their first chord not too long after Manic Focus ended his set. I'm thinking they couldn't leave the kids idle for more than a half hour. "Sunroof Cadillac" and "Stuntin'" were some great funky tracks that kept the party from getting to that dark place that Infected Mushroom loves to take their audience to. Remixed beats like "Body Slam" and Toto's "Africa" were pleasantly surprising performances. "Body Slam" sampled the theme song from the classic Looney Tunes flick Space Jam and overall did a great job of building up the crowd's enthusiasm. The frat boy culture kept the crowd jumping up and throwing their backs out. I'm still a little sore. Funky and subtle flavor of 90s Boy Band/R&B led into deep bass and literal womps by the aid of Ludacris' "Blueberry Yum Yum." Add bits of Super Mario Bros. theme song (for some reason) and a dash of Aretha Franklin samples. Here, ladies and gentleman, is your recipe for an EDM entrée with a side dish of underage kids and MDMA for dessert.
Energy: A
Musicianship: B+
Sound: B
Stage Presence: A-
Set/Light Show: B+
Overall: B+
Lindsay was born in Georgia, raised in Florida, and moved to Colorado when she turned 18. All Lindsay asks for in life is music, hoppy beer, and the written word. The necessities of family, friends, water, and food naturally follow.