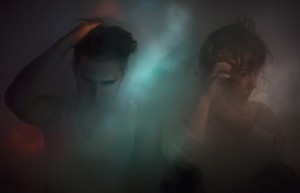 Photo by Landon Speers
The Scene:  Casselman's had a long list of DJ's to offer the snow dusted city of Denver last Saturday.  Although it was a chilly night in the Rhino District, the DJ's diverse energy and beats united a varied crowd. We walked straight up to the bar and grabbed tall boys of PBR at an average price. Early in the night tweens sat on the outskirts of the venue in the cozy vintage furniture.  As the night went on a handful of hipsters lingered on the patio, smoking cigarettes before joining the crowd that kept growing near the front of the stage. By 11:00 the venue was packed, mostly consisting of snowboarding bros wearing vibrant colored hoodies and Burton hats. Despite the eclectic mix of people, everyone had one thing in common: love for an assortment of electronic beats and styles.
Openers: The list of talent all embraced their own vibe taking the crowd in different directions with each set. Krooked Drivers, made up of a male-female duo, brought big smiles and energy to the stage their entire set. Keepers, Denver's own, ignited a dance party with their remix of Prince's When Doves Cry. By the time Giraffage hit the stage the crowd was in the mix of a dancing frenzy. Although, some were quickly disappointed by his excessive use of shameless pop remixes.
Purity Ring (DJ set): Taking the stage on his own, Corin Roddick from Purity Ring took the crowd on a journey through a unique blend of unfamiliar sounds, dropping an exclusive Purity Ring remix here and there. To the delight of the crowd he showcased Purity Ring the band's popular "Fineshrine" and "Loftcries."  His presence was (as always) passionate and expressive but unfortunately the crowd started to die off half way through the set.  As I wandered the venue I overheard several comments about the lack of Purity Ring music in the set. When all was said and done his set was satisfying, but was certainly no substitute for a live set including the band's leading lady Megan James.
Energy: B
Musicianship: B
Sound: B
Stage Presence: B-
Set/Light Show: D
Overall: B-