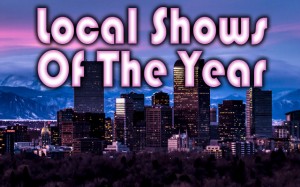 It goes without saying that Denver has an incredible music scene but what's even more important to realize is that on any given night there are countless "local" bands playing their hearts out for legions of devoted fans.  These are bands that may be touring regionally or might be developing pockets of fans in far away places like Mississippi or Jackson Hole.  These are not The String Cheese Incidents, Frays, or Yonder Mountain String Bands of our scene, these are their heirs, the next generation of bands who are sure to keep the Colorado music scene on the map.  These are bands and artists that deliver electric performances based largely on original music.  Simply put, these are bands you should know about if you call yourself a music fan in Colorado.
YAMN – Bluebird Theatre – February 15th (Read Review)
Fox Street (CD Release Party) – Larimer Lounge – March 2nd (Read Review)
Robby Peoples – Moe's Original Bar-B-Que – April 16th (Read Review)
The Magic Beans – Campout For The Cause – May 26th (Read Review)
The Yip Foundation Benefit (Fox Street & The Congress) – Stoney's Bar & Grill – October 18th (Read Review)
Gregory Alan Isakov w/Colorado Symphony Orchestra – Boettcher Concert Hall – November 8th (Read Review)
Ark Life – Park House – November 14th (Watch Video)
We would also like to mention two musical experiences that pull together some of the best musicians in our area to create an evening that is far greater than the sum of it's parts.  Sometimes there is nothing better than getting a whole bunch of extremely talented musicians together on one stage to play some of their favorite music.  While both of the shows listed below are comprised entirely of "covers," these are nights that showcase just what and incredibly rich scene we are fortunate enough to have here on the Front Range.  If you missed them this year, do not make the same mistake in 2014!
Dance Party Time Machine – Cervantes' Masterpiece Ballroom – September 27th (Read Review)
The Last Waltz Revisited – Ogden Theatre – November 27th (Read Review)