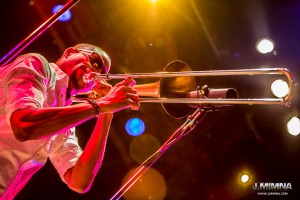 Photos by Jim Mimna 
The Scene: There were a lot of people in Denver looking for a Funk release on Friday night, perhaps from holiday stress or just overindulging, and the Ogden Theatre had just the remedy. The week leading up to New Year's Eve is an awesome time for music lovers in Colorado with great bands lighting up every venue, and Trombone Shorty & Orleans Avenue capitalized on that energy with a two-night stand on Thursday and Friday nights. Folks looked happy as they snaked through the scalpers toward the venue, enjoying unseasonably warm temps. The crowd represented a broad mix of music lovers, from younger folks looking for a dance party to go along with their many beers, to much older folks who looked like they'd seen been to their share of New Orleans Jazz Fests. Everyone arrived early and stayed until the end, dancing the whole time.
Opener: The Congress. The Congress played to a mostly full room during their 45-minute set. The band's sound is a great match for Trombone Shorty — Southern Rock and Roll with a lot of Soul. Lead vocalist Jonathan Meadows shined on songs like "Loretta," off their 2010 self-titled EP, and the closing song "Walls" off their debut full-length 2012 album Whatever You Want. That said, the Congress is about more than just vocals as they frequently stray from the beaten path and let their instruments do the talking. The sound up in the balcony could have been better, particularly on the vocals, but the crowd liked what they heard. This band is going places, and announced that their next big gig in Denver will be at the Bluebird in April, after a spring tour with Lake Street Dive.
Trombone Shorty & Orleans Avenue: When Orleans Avenue took the stage, the crowd let out a happy roar and immediately started shimmying. The drummer's ear-to-ear grin through most of the set was contagious, and the packed house was grinning right along with him. When Trombone Shorty trotted out on stage, the crowd roared even louder, ready for a dance party. With an electric smile and an incredible amount of talent, Trombone Shorty is an entertainer through and through. He is a 28-year old child prodigy who learned from, and played with, the best in New Orleans since he was six.
Trombone Shorty & Orleans Avenue is filled with talent beyond its eye-catching lead. Two instrumental songs early in the set highlighted some gritty saxophone work from one of the two horn players, and a guitar solo that commanded attention from the audience. The encore let the drummer shine with an impressive solo, but the crowd really tunes in when Shorty is either singing or playing the trombone or the trumpet. He knows how to work a crowd, getting everyone to clap their hands or sing along.
The crowd never stopped moving as the high-energy band moved through perhaps two dozen songs with only quick breaks in between so we could all catch our breath. "Way Down" carried the gentle reminder, "It's high time that you find the same people you misused on your way up, you might meet on your way down," while "Craziest Things" focused on losing your mind over a love. The band tossed a couple of great, random covers in the mix, including an instrumental version of "American Woman" (The Guess Who)  that included some serious horn work from all three horn players, and a dance-ready version of "On the Sunny Side of the Street," a Jazz standard that got the whole crowd singing and dancing with joy. "Eliza" even included a "Blister in the Sun Tease," or at least that's what the 90s kids in the crowd were saying.
The instrumental "Hurricane Season" is a crowd favorite, summoning the energy of New Orleans as the crowd gets a chance to holler "Hey!" in response to all three horn players in the chorus, and giving Trombone Shorty a chance to play an incredible solo that showed off his impressive lungs. "Something Beautiful" is the Trombone Shorty song that has received the most radio play, the recording of which included Lenny Kravitz on backing vocals and guitar, and the crowd loved it.
The band encored with "Do To Me," giving most of the band members a chance to shine with a quick solo. Trombone Shorty belted out the lyrics: "I know you came here to move . . . I know you feel so girl when you're feelin' the groove . . . I can show you how it's done . . . What I'm gonna do to you girl I bet you like it." He's got that right.
Energy: A
Musicianship: A
Sound: B
Stage Presence: A-
Set / Light Show: C
Overall: A
Amy Murin was raised with a professional guitar player for a brother and a Parrothead for a father - how could she not love music? She wouldn't miss the Telluride Bluegrass Festival, loves a great funk dance party (preferably with Orgone), has a soft spot for country after going to college in Nashville, and will go see any live band that is up on stage appreciating the fact that they have the greatest job in the world. Her first concert was either the Beach Boys or Rick Springfield, but she really thinks it all began when her parents went to see Elvis in Vegas when she was in the womb. You'll find her dancing at Cervantes, Quixote's, Red Rocks, the Bluebird, or really any live music venue with good music on any night of the week. She loves discovering new bands (to her), and loves turning people on to fabulous musicians!